Mike Golding unsure of Vendee Globe future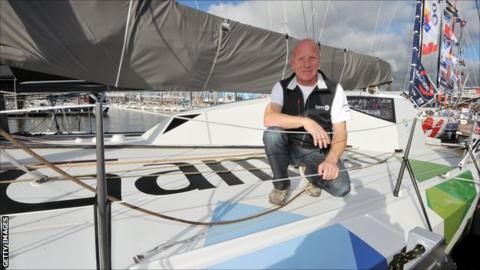 Vendee Globe veteran yachtsman Mike Golding says it is unlikely he will compete in the race again.
The 53-year-old completed the gruelling round-the-world race for the third time earlier this year. It was the fourth time he had entered the race.
Golding also completed the race in 2001 and 2005 but was forced to quit in 2008 when the mast on his boat was damaged.
"It's not looking likely for the next Vendee but I would never say never," Golding told BBC Radio Solent.
Earlier in 2013 Golding became the first person to sail around Cape Horn three times in each direction while competing in the Vendee - but now admits it may be his last.
"This last edition was pretty tough for me, I got into a bad cycle with the weather," he said. "It was still a pretty good result, I got sixth, but it was not my best finish - I've come third before. I'm always looking for a win and it's the one thing that seems to have eluded me.
"I have a bit of deep-rooted frustration but I'm extremely fortunate to have completed it three times.
"I would never say never. I love solo sailing but my focus is not on the Vendee Globe. On this occasion I am looking for new challenges and something a little bit different.
"The thing about the Vendee is if you do it you want to make sure you are 100% prepared and able to win the race.
"You have to feel in your heart that you are capable of winning and to do that requires a lot of support, and it is becoming increasingly difficult to find that support."
Hampshire's Golding is now focusing his energies on a new project called 'SpeedDream', which looks at designing the next generation of ocean-racing boats, a change of direction that excites him.
"While I may not be heading towards the next Vendee Globe in 2016 I seem to have plenty in front of me," Golding explained. "The reality is I'm looking at projects that perhaps allow me to sail more with a crew.
"The solo sailing with these 60ft boots is extremely physical and the sailors doing it now are full-on sports athletes and it's become an extraordinary sport.
"I have not lost my passion - I'm just diverting it into a different direction."
Golding has been named on the shortlist for the Yachting Journalists' Yachtsman of the Year Award - an award he has been nominated for three times previously but has never won. Hampshire-based Jeanne Socrates was also nominated.
"It's a great honour and to be recognised by the YJA," he added.
The Isle Of Wight's Natasha Lambert and Ringwood-trained Milo Gill Taylor were nominated in the young sailor category.