Sir Ben Ainslie wants F1's Adrian Newey to help America's Cup bid
Last updated on .From the section Sailing
Sir Ben Ainslie wants to get Red Bull Formula 1 design chief Adrian Newey involved in his attempt to win the America's Cup with a British team.
Ainslie spoke to Newey, the leading F1 designer for the last 20 years, at November's Abu Dhabi Grand Prix.
"Adrian is a big sailing fan," Briton Ainslie told BBC Radio 5 live.
"There's the potential for him perhaps to get involved, cast his eye over our design team and what we're looking at doing."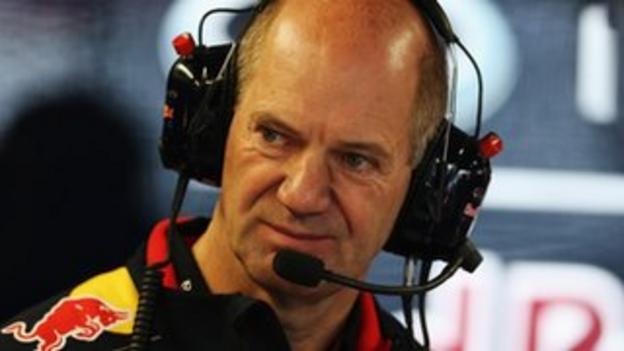 He added: "We had a great catch-up but Adrian is committed to F1 for the foreseeable future."
Newey, who designed the Red Bulls which Sebastian Vettel drove to win the last four world championships, has long spoken of his interest in getting involved in the America's Cup at some point, but he is contracted to Red Bull until at least 2017.
Four-time Olympic champion Ainslie led Oracle Team USA to victory in the America's Cup last year and is trying to raise the money to put together a team to bring the event back to British waters when it is next held.
The winner chooses the next venue, type of boats and date, which is within three to five years of it last being held.
Ainslie has said he is "reasonably confident" of securing the investment to set up a British team.
Newey's expertise in fluid dynamics - a key factor in F1 car design - could be valuable to the team designing the boat.
Ainslie added: "To have the advice of Adrian or many of the very smart people involved with Formula 1 industry in the UK would be a great boost for us as a team.
"Newey is clearly a genius, in anything to do with competitive design and he's got a great profile, but I would hate for anyone to think we were trying to prise him away from Red Bull Racing."