Sir Ben Ainslie to compete in Extreme Sailing Series
Last updated on .From the section Sailing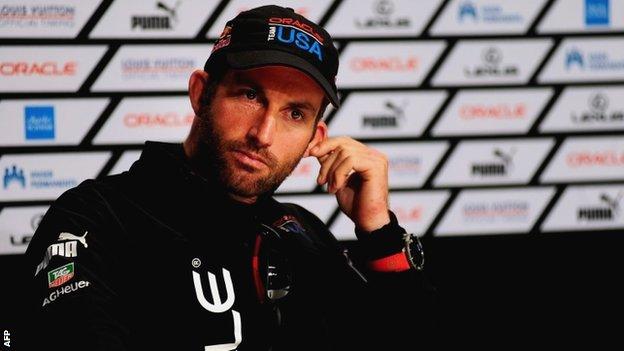 Four-time Olympic champion Sir Ben Ainslie will take part in the Extreme Sailing Series this year.
The eight-race event will see him compete as part of Ben Ainslie Racing in a 40ft multi-hull boat.
Ainslie said the event would be good preparation for another tilt at the America's Cup, which he won as part of Oracle Team USA last year.
"It's a great chance to get out and start building up our team towards the America's Cup," he told BBC Radio 4.
"The races are generally very close to the shoreline so it's great fun for the spectators and they're half the size and very transportable boats."
Ainslie's first action will be in Singapore on 20-23 February, with other destinations including St Petersburg in Russia and the Welsh capital Cardiff.
Ben Ainslie Racing, which will feature his fellow Great Britain Olympian Paul Goodison, will be one of nine teams taking part.
The 36-year-old said he was working to bring the various financial and sporting elements together to have a British team compete in the America's Cup.
"We've been working incredibly hard since last September to get the financing together, both privately and commercially and that's been going really well," he told BBC Radio 5 live.
"The big issue with the next America's Cup is waiting to find out what the rules are for the event and we should find more out about that this spring.
"Until we get those rules and have a much better idea of what we're up against then we can't ultimately commit until then."