Phil Sharp plans solo racing return at La Solitaire
Last updated on .From the section Sailing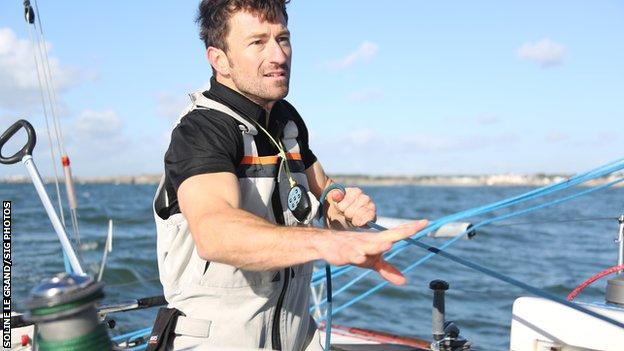 Jersey sailor Phil Sharp is to return to solo sailing, setting his sights on a top-10 finish at La Solitaire du Figaro in the summer.
"It's very exciting to be back in such a competitive environment," said Sharp.
"A winter training programme will be crucial in order to be in good form by the time the races start in spring."
"The Figaro is an ideal training arena for developing and honing many of the skill-sets required in the bigger ocean racing classes such as strategy, navigation, tuning, and sleep management.
"The next few months should hopefully enable me to move my game forward following what has been a two-year break from solo sailing.
"So far the training has gone really well and it's encouraging to be close to the pace of some more experienced French Figaro sailors. However I'm not underestimating the amount of work on the water that I need to put in over the next couple of months before the races start, in order to be consistently near the front of the fleet.
"Training through the winter is always more demanding, having to go out sailing each day in the cold, the rain, and the wind.
"But heavy wind training I think is so important, in order to learning how to keep sailing your boat fast and comfortably and to avoid mistakes. If you want to do well in the Figaro Class there is no room for mistake, so preparation is everything."