Volvo Ocean Race: Dee Caffari joins all-female crew
Last updated on .From the section Sailing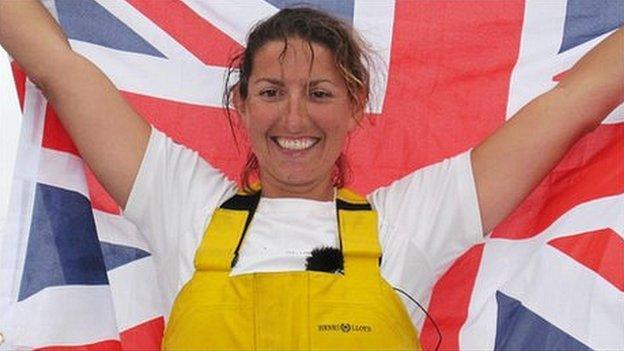 Record-breaking yachtswoman Dee Caffari has joined the first all-female crew to compete in October's Volvo Ocean Race for 12 years.
Caffari, 41, joins fellow Britons Sam Davies, Abby Ehler and Annie Lush in Team SCA for the round-the-world race.
Caffari, who became the first woman to have sailed around the world non-stop three times, was selected after a trial in Lanzarote.
"I am delighted to be part of the team," she said on her website.
"As one of the last people to come through the trial system I was playing catch up and had a lot of ground to cover, especially compared to the girls that had been training as part of the team for the past year.
"I had to work hard on my fitness as the team is very strong and these boats are very physical to sail and I also had to learn the new boat, the VO65 and the best way to sail the boat."
Davies, who was part of the four-strong, all-female crew to set the 2,500 nautical mile round Britain and Ireland mono-hull record with Caffari in 2009, has been part of Team SCA training in Lanzarote since October last year.
Caffari, Sara Hastreiter of the USA and Switzerland's Elodie-Jane Mettraux have joined the team of 12 preparing for the Volvo Ocean Race, of which only 11 members will compete.
"Now we have a squad of girls, we move onto the next phase of training in preparation for the race ahead," said Caffari.
"It will become more intense and will involve a lot more miles so it is a really exciting time."