Sailing: Phil Sharp buoyed by Maitre Coq return
Last updated on .From the section Sailing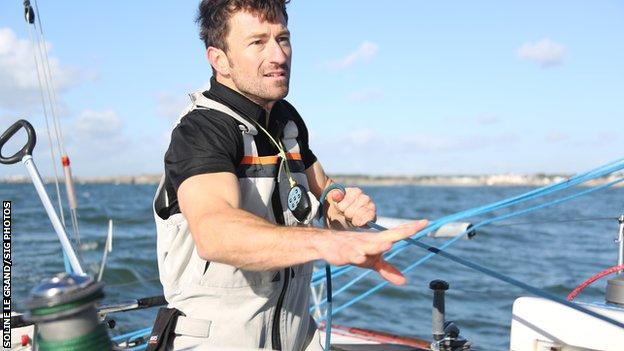 Jersey sailor Phil Sharp was the first British competitor to cross the line in the Solo Maitre Coq race, finishing the event in 12th place.
Sharp had found himself moving up and down the rankings in a tricky three days of sailing, with the route shortened because of light winds.
The 32-year-old was in his first solo race since 2011.
"Although disappointed after losing a few places just before the line, all in all I'm quite satisfied," said Sharp.
"This was my first official single-handed race since La Solitaire in 2011 and it has really identified the areas I need to work on: my speed in very light winds particularly needs some work, as we have not had much training on this whilst sailing between the winter gales!"
Sharp had been as high as seventh and as low as 25th in the rankings during the race, which took place in Les Sables d'Olonne and was won by Jeremie Beyou.
"I pushed very hard upwind during the start of the last night and managed to overtake about 10 boats, but I was pretty ruined heading out to Isle d'Yeu for the final time," he added.
"I managed to grab a 15-minute nap which helped masses, and rounded the island right next to Alexis Loison in the battle for eighth place.
"Unfortunately on the last home straight I had a particularly big broach in a vicious gust coming off the island and I blew out my big spinnaker which cost me some time, fishing it out of the water and clearing up the mess.
"This enabled some of boats to slip past just before the finish, which was very frustrating! However it was incredible that we all finished so close together."
Sharp's next event will be the Transat Concarneau on 26 and 27 April.