America's Cup World Series race could be held in UK
Last updated on .From the section Sailing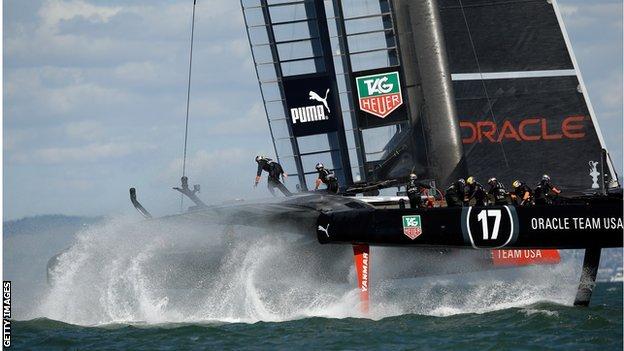 The UK could host one of the America's Cup World Series events that lead up to the 2017 finals, under new rules.
Under those rules teams will be able to host a series event in their home country.
Olympic champion sailor, Ben Ainslie is planning a British team, which could potentially bid for a race in the UK.
Ainslie was credited for inspiring Oracle Team USA to a dramatic win in the America's Cup decider in San Francisco last year.
The British sailing legend, 36, a four-time Olympic champion, was drafted in as tactician and helped reverse an 8-1 deficit against Team New Zealand.
Since then officials have been working on the rules governing the next series of races.
In a new format, at least six America's Cup World Series events will be held in both 2015 and 2016 and each race will count towards qualification or points in the final America's Cup Match in 2017.
There will be a new class of yacht, the AC62, for the final races.
It will feature the hydrofoil technology, which raises the boats out of the water, creating high speed and dramatic racing.
At least 25% of crew members will have to be from the nation where the team comes from, under the new rules.
A venue for the deciding races in 2017 has not been decided yet, but will be announced before the end of the year.