49er European Championships: Dylan Fletcher & Alain Sign third
Last updated on .From the section Sailing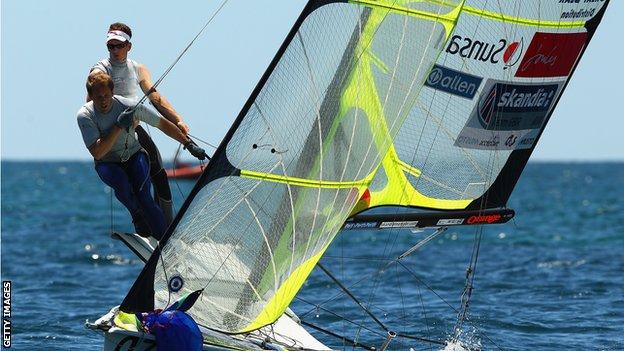 Dylan Fletcher and Alain Sign recovered from a wrecked boat to claim overall bronze at the 49er European Championships in Helsinki.
The English sailors came back, following urgent repairs after hitting submerged rocks on the first day, to finish behind New Zealand and Germany.
"If you'd told us on Tuesday we were going to be sat here I wouldn't have believed you," said Fletcher.
Charlotte Dobson and Sophie Ainsworth were sixth overall in the women's 49er.
Dylan Fletcher
Role: Helm
Age: 26
Based: Market Harborough
Alain Sign
Role: Crew
Age: 28
Based: Lee-on-the-Solent
Fletcher and Sign drew confidence from finishing ahead of Olympic champions Australia as they look forward to an Olympic test event next month ahead of the 2016 Games in Rio de Janeiro.
"Results aside, we're really pleased with all the gains we've made," said Fletcher. "Last year we would struggle in the breeze and this year we've been racing round holding our own with the top boats in the windier conditions."
Compatriots John Pink and Stuart Bithell finished ninth overall.
Dobson and Ainsworth finished adrift of Denmark, who won for the second year running, while fellow Brits Frances Peters and Nicola Groves were ninth and Kate Macgregor and Katrina Best 10th.
Elsewhere, 2008 Olympic champion Pippa Wilson and crew John Gimson were the top British pairing and overall sixth at the Nacra 17 European Championships in La Grande Motte, France.