America's Cup: Ben Ainslie - plans unaffected by Australia withdrawal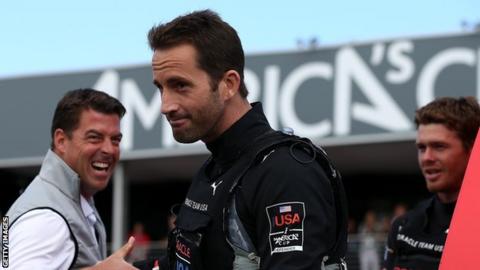 Sir Ben Ainslie says Team Australia's withdrawal from the 2017 America's Cup would have no bearing on plans for a British challenge in the competition.
Hamilton Island Yacht Club owner Bob Oatley said the "costs... were well beyond our initial expectation".
Four-time Olympic gold medallist Ainslie, 37, said the withdrawal was "regrettable", but dismissed fears the British bid faced similar issues.
He insisted that plans for a British entry would be unaffected.
America's Cup explained
First staged in 1851 off the Isle of Wight in England. Won by US yacht America
The winner decides the rules and venue of the next event
No British team has won it, but Sir Ben Ainslie is hoping to change that with his new team
As holders, Oracle Team USA have revamped the format. Qualifying rounds have been streamlined and will start in 2015. The finals are likely to be in June 2017
Takes place roughly every three to five years
The boats will be smaller and cheaper, and a quarter of each crew has to be from the team's home nation
Racing is boat-on-boat, called match-racing
Hamilton Island had been named as Challenger of Record, which requires acting as a representative for all the challenging teams in negotiations with the America's Cup holders, who decide the rules for the next event.
A statement from Ben Ainslie Racing read: "While the withdrawal of the Challenger of Record is regrettable, it is not unusual and we will continue our preparations for the 35th Americas Cup and look forward to an exciting future."
Ainslie won the America's Cup with Oracle Team USA last year and will captain a team for the next event, to be held in San Diego or Bermuda.
The UK government has granted more than £7m in funding towards Ainslie's America's Cup sailing team base in Portsmouth.
The historic race first took place off the Isle of Wight in England in 1851, but a British team have never won it.
Ben Ainslie Racing are pledging to bring the event back to UK waters if they win.