GB win four medals on final day of 2016 Rio Olympics test event
Last updated on .From the section Sailing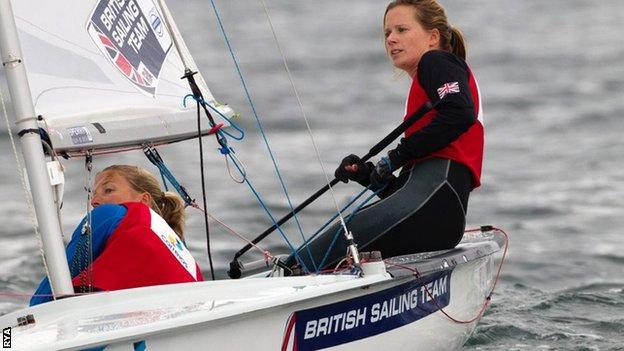 Britain won three silver medals and one bronze on the final day of the Rio Regatta to take their total to eight medals at the 2016 Olympics test event.
Alison Young took silver in the Laser Radial class, Luke Patience and Elliot Willis were runners up in the men's 470 and Hannah Mills and Saskia Clark finished second in the women's 470.
Nick Thompson claimed Laser bronze.
Giles Scott won the only gold, in the Finn class on Friday, as Britain won medals in seven Olympic classes.
Olympic sailing manager Stephen Park said: "Winning eight medals in seven events of the 10that we compete in has been very pleasing.
"It's certainly a work in progress and of course we'd like to win more gold medals than we've won this week.
"But we were in there competing for gold in four of the events and to be racing out for the podium in every single one of the 10 events is a fantastic place to be."
On Friday, GB won bronze medals through Ed Wright in the Finn, Nacra 17 duo Pippa Wilson and John Gimson, and 49er pair Dylan Fletcher and Alain Sign.