Sophie Weguelin set for lengthy absence with deep vein thrombosis
Last updated on .From the section Sailing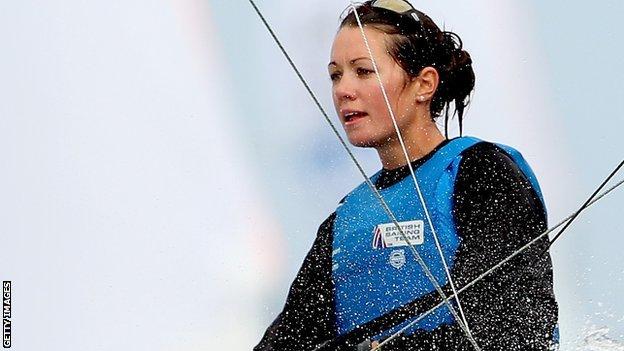 British Olympic sailing hopeful Sophie Weguelin faces being sidelined for six months after being diagnosed with deep vein thrombosis (DVT).
The 25-year-old competes in the women's 470 event and picked up the problem following a flight back from the Aquece Rio International Regatta last month.
Weguelin will now be absent from the World Championships in September.
She is also set to miss November's World Cup Grand Final and the World Cup leg in Miami in January 2015.
What is deep vein thrombosis?
Deep vein thrombosis (DVT) is a blood clot caused when blood flows too slowly through the veins.
Travel-related deep vein thrombosis was first reported in 1954 in a doctor who developed a blood clot following a 14-hour flight.
The condition was called "economy class syndrome" by researchers who linked DVT to long-haul air travel in cramped conditions.
Symptoms include a swollen or painful calf or thigh, paleness and increased heat around the affected area.
If left untreated, DVT can lead to a pulmonary embolism, when part of the blood clot breaks away and travels to the lung, and can be fatal.
source: NHS Choices
Weguelin has her sights set on the 2016 Olympics in Rio and races with Eilidh McIntyre, who will sail with Christina Bassadone at the Worlds in September as a temporary measure.
"It's massively frustrating to be missing the World Championships with Eilidh, which we have been hard working towards all season," said Weguelin.
"But obviously I have to take the advice of the medical team and not take unnecessary risks which could have serious consequences.
"There's always plenty to be done off the water as well as on it in an Olympic sailing campaign, so Eilidh and I will still be working hard over the winter in all those areas, ready for when I can go on the water again."