Volvo Ocean Race: British duo take all-female crew into lead
Last updated on .From the section Sailing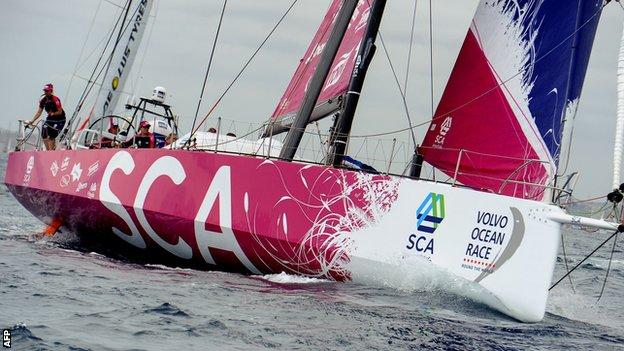 The first all-female crew to take part in the Volvo Ocean Race in 12 years took an early lead in the nine-month round-the-world event.
The seven-strong fleet set sail from Alicante, Spain, on Saturday in the first stage, heading to Cape Town, South Africa.
Swedish-backed Team SCA is led by British duo, skipper Samantha Davies and navigator Libby Greenhalgh.
By Monday morning they were several nautical miles in front.
The teams
Team SCA, Sweden
Abu Dhabi Ocean Racing, Abu Dhabi
Dongfeng Race Team, China
Team Brunel, Netherlands
Team Alvimedica, US/Turkey
MAPFRE, Spain
Team Vestas Wind, Denmark
There are 16 nationalities among the seven teams,with sailors from Australia, Belgium, China, Denmark, France, Ireland, Italy, Lithuania, Netherlands, New Zealand, Spain, Sweden, Switzerland, UAE, USA & UK. Other Brits involved are
Team SCA's Dee Caffari,
Abu Dhabi Ocean Racing's navigator Simon Fisher & MAPFRE's Sam Goodchild.
Greenhalgh made a tactical move overnight on Sunday to split from the pack through the Straits of Gibraltar, which leads from the Mediterranean to the Atlantic.
She said: "Everyone except us were going the southerly route through the Straits and for the life of me, I couldn't figure out why.
"We wanted to stay with the fleet but we also wanted to stick with our plan and our plan has us sailing north."
About the Volvo Ocean Race

The global event takes nine months to complete and covers almost 39,000 nautical miles

One nautical mile is equal to 1.15 land miles and is used for navigating and charting

The event is regarded as crewed sailing's toughest test

The race was previously called the Whitbread Round the World Race

Read more
The Danish entrants, Team Vestas Wind, were in second place early on Monday, with the youngest crew in the fleet, Team Alvimedica (USA/Turkey) in third.
British skipper Ian Walker is at the helm of Abu Dhabi Ocean Racing's boat, Azzam.
In the last edition of the race, in 2011-12, Walker's crew was one of several to suffer a string of breakages due to bad weather.
This time, all of the fleet are sailing in a one-design Volvo Ocean 65 boat, built for durability rather than speed.
The first of nine legs is expected to take three weeks. The race finishes in Gothenburg, Sweden, on 27 June, 2015.