Hannah Mills & Saskia Clark robbed at knifepoint in Rio
Last updated on .From the section Sailing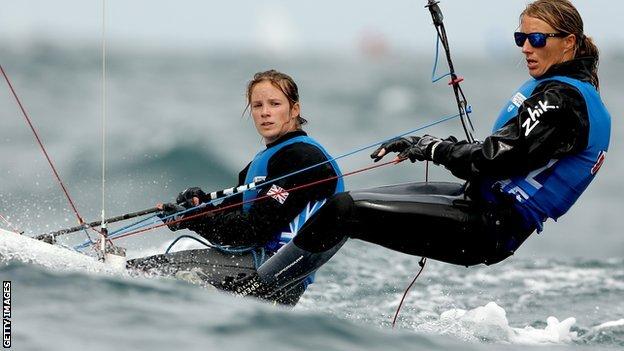 London 2012 silver medallists Hannah Mills and Saskia Clark have been robbed at knifepoint in Rio de Janeiro.
The sailors, in Brazil for a two-week training camp as part of preparations for the Rio 2016 Games, were approached by two men armed with knives as they returned to their hotel from training.
The men pushed the pair and took everything they had.
"We made it back to the hotel slightly shaken but OK," 470 class sailors Mills and Clark posted on Facebook.
"Our delightful walk back from the sailing club to the hotel turned fairly nasty when two guys wielding 7-inch knives ran at us, pushed us around and grabbed everything we had.
"Along with the things that were actually worth something, the most annoying thing right now is our lycra we were sailing in got taken... unbelievable!"
Earlier this year, Cardiff-born Mills, 26, and 35-year-old Clark, who is originally from Colchester, won bronze at the World Championships in Santander, Spain, to qualify their boat in the 470 class for Rio 2016.
Selection for the boats will be made closer to the time of the Games.