Alex Thomson & Pepe Ribes ready for Barcelona World Race
Last updated on .From the section Sailing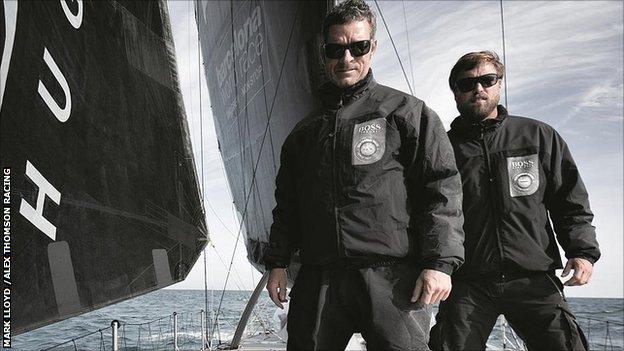 British sailor Alex Thomson says he and fellow skipper Pepe Ribes are "justifiably among the favourites" for the Barcelona World Race.
The double-handed race begins on New Year's Eve and takes the pair around the world in three months.
It is Thomson's third attempt at glory, having come second eight years ago, and failing to get off the start line four years ago because of appendicitis.
"Absolutely we can win it," Thomson, 40, told BBC Radio Solent.
The regatta is a non-stop race around the world from west to east, with the boats sailing around 23,000 nautical miles.
"You come out of Barcelona, through the straits of Gibraltar, turn left, left around Africa, then left at America and then back to Barcelona," said Thomson.
He and Ribes are one of eight pairings competing this time out, with the duo representing Hugo Boss - the only team to take part in all three editions.
Spaniard Ribes, 43, came fourth in the last edition of the race and has done four Volvo Ocean Races - three in Spanish colours - and two America's Cups.
Thomson thinks the pair are well suited to the challenge, with his own history of solo racing in the Vendee Globe and Ribes' background in fully-crewed sailing.
"He is very accomplished, very serious and an ideal partner," added Thomson. "I come from a solo background, so having someone with a mix of skills is very complimentary."

Barcelona World Race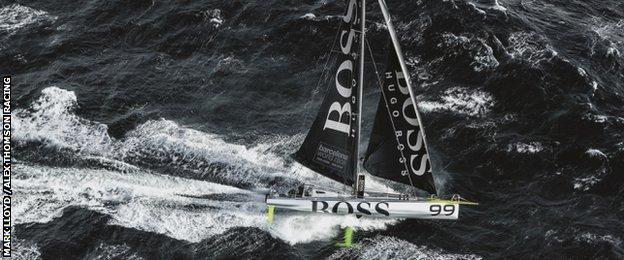 The boat:

The new Hugo Boss IMOCA 60 has cost upwards of £3m

The race:

Takes in 23,000 nautical miles and lasts around 90 days

The Teams:

Eight teams, including Hugo Boss, will compete in the BWR

Life on board:

Sailors can expect to lose up to 12 kilos in weight during the race

Thomson made his name in the Vendee Globe, becoming only the third Briton to finish on the podium - on his third attempt - and he says a lot of work has gone into not only building a competitive boat, but also on building a working-relationship with Ribes.
"In terms of personality, we are quite different," he said.
"I'm quite extrovert, he is relatively introverted. In some ways that is a positive as we'll look at things differently. It could be quite easy to wind each other up. We've done some work in how to challenge each other constructively and keep everything on a positive nature. There will be conflict, but you need to be challenged to get the best out of you.
"A bit like a marriage, we will be together for three months. We cannot avoid it - so we have to make the best of it. We've prepared with a sports psychologist on team dynamics."
With a fellow skipper on board, Thomson said he can afford the luxury of taking a tablet computer on board for a few moments away from the sea but added that they are determined to win the latest edition.
"We've broken a few things, we understand the limits and we feel pretty confident and justifiably we are among the favourites," he said.
"Eight years ago we came second, four years ago I was going to do the race but got appendicitis so couldn't do it. I have unfinished business. I'm in this one to win in it."