Ben Ainslie & Georgie Thompson rescued by Richard Branson
Last updated on .From the section Sailing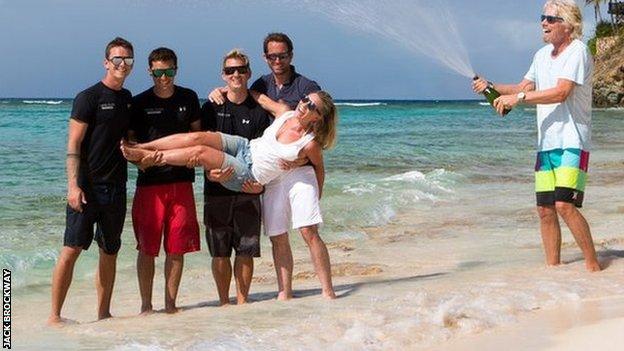 Four-time Olympic sailing champion Sir Ben Ainslie and wife Georgie Thompson have been rescued by Sir Richard Branson - while on their honeymoon.
The couple, who were sailing around Branson's Necker Island, got into trouble when their boat developed a problem with the sail.
"Seeing as Ben is one of the greatest sailors of all time," Branson wrote on his blog, "what we didn't expect to see was his boat getting into trouble!"
Branson's staff helped with the rescue.
A problem with the furling system on the main sail was the cause of Ainslie's problems, according to Branson.
TV presenter Thompson, who co-hosts Fighting Talk on BBC Radio 5 live, later tweeted her thanks.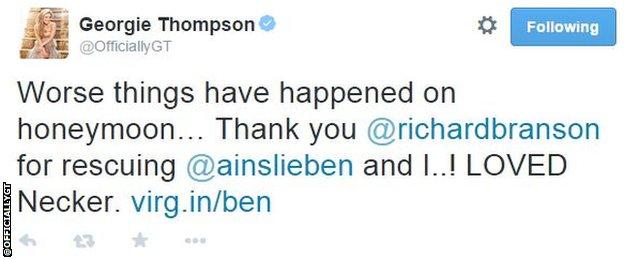 The entrepreneur added: "With no harm done, Ben was able to see the funny side - after all, stranger things have happened at sea.
"We are now hosting him and Georgie on the island for a few days."
The couple married at Hampton Court Palace last month and were holidaying near to Necker Island, part of the British Virgin Islands and owned by Branson, when Ainslie radioed for help.
In 2013, Ainslie led Oracle Team USA to a dramatic 9-8 victory over Team New Zealand in the America's Cup.