Emma Wilson: Windsurfing star keeps pace with Olympic mum
Last updated on .From the section Sailing
While most teenagers are reluctant to rise from their static slumber on a morning, 15-year-old Emma Wilson thinks nothing of spending two hours on the water to hone her windsurfing skills before lessons.
The Christchurch-based teenager won the Under-17 and Under-19 World Championships titles in Clearwater, USA, last October, in addition to her European Under-17 triumph earlier in the year.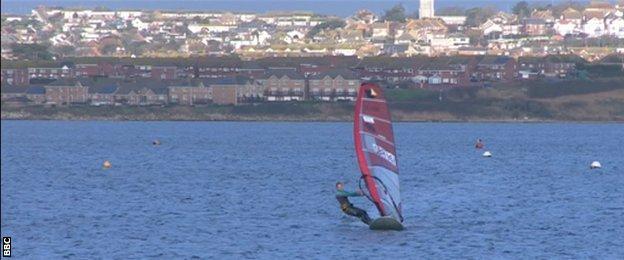 "I never thought I'd win the award - I was amazed to be nominated, so to win it was crazy," she told BBC South Today.
"After all these cold mornings, it's definitely nice to win it."
Windsurfing is in Wilson's genes, with her mother Penny a former world champion and two-time Olympian, having represented Great Britain at the 1992 and 1996 Games.
School comes first...
Emma Wilson received her Young Sailor of the Year award on the Weymouth seafront after training, rather than at the glitzy ceremony held in London - because she had a mock English exam in the afternoon.
"My mum is just my mum now - everyone says she's an amazing windsurfer and she is but she's just mum to me," said Wilson, who trains in Weymouth.
For her part, Penny said her daughter had wasted no time in getting ahead of the family pack on the water.
"I think she's a lot better than me now," said Penny.
"I used to go out with her and her brother quite a bit but now there's not much point as they just go much faster than me. Her elder brother Daniel is also extremely good, so he's a fantastic training partner for her.
"She learns really quickly from her mistakes - she only makes mistakes once."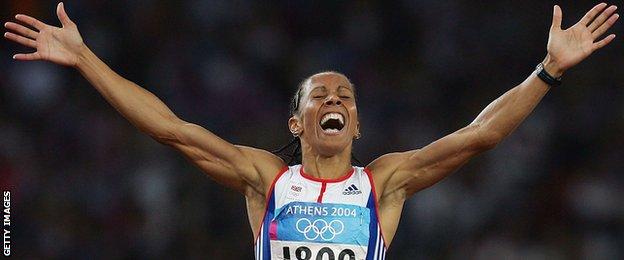 Weymouth hosted the sailing events at the 2012 Olympics, but Wilson said it was actually a previous Games which set alive in her the ambition to emulate her mother on the Olympic stage.
"Since I saw Kelly Holmes win gold in Athens I wanted to be an Olympian. I just want to go to the Olympics," said Wilson, who started windsurfing as a seven-year-old.
British Sailing's Connor Bainbridge coaches Wilson and said the dedication she shows on a daily basis has underpinned her success over the last 12 months.
"She's had an amazing year. She just keeps getting better and better and it's pretty amazing to be part of that journey," he said.
"It doesn't seem like there's any stopping her at the moment.
"The secret is a lot of hard work - everyone sees her absolutely flying in the competitions but what they don't see is the hard work that's going on, on the water. The amount of hours she puts in is just incredible.
"We're doing this interview at 8am on a cold January morning and she's already been out training, so I think that shows she's definitely got all the qualities you need to succeed."
(Interviews by BBC South's Tony Husband)