Volvo Ocean Race: Dongfeng quit leg five with broken mast
Last updated on .From the section Sailing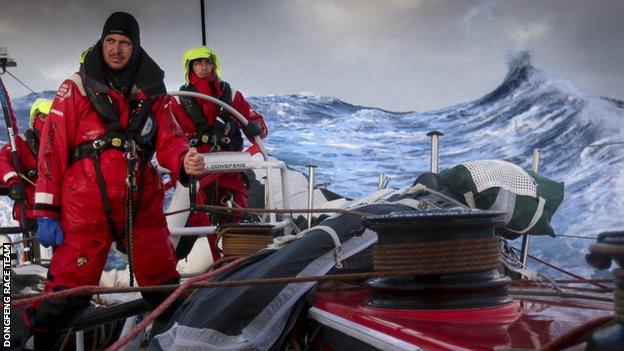 The Dongfeng Race Team have quit leg five of the Volvo Ocean Race after suffering a broken mast 200 nautical miles from Cape Horn.
The crew will motor to the Brazilian port of Itajai to work on the boat.
Skipper Charles Caudrelier said it would be "impossible" to finish leg five and carry out the repairs in time to start the next stage of the race.
Chinese-backed Dongfeng jointly lead the round-the-world race with Abu Dhabi Ocean Racing on eight points.
Abu Dhabi now lead the fifth stage from Auckland, New Zealand, to Itajai, the start of which was delayed by 67 hours to avoid a developing super-cyclone.
The Dongfeng Race Team had cut off a sail and the top of the 30m mast to prevent more damage after it broke and a day later reached land in Ushuaia, Argentina, before considering their options.
"If we decided to finish leg five we would be last for sure," added Caudrelier. "If we did that we are not sure to be ready for the next leg.
"We need to focus 100% on performance in the next leg, and this is our goal."
The next leg leaves from Itajai on 19 April.
The Volvo Ocean Race started in the Spanish city of Alicante in October, with teams visiting 11 ports in 11 countries across nine legs.
The race finishes in Gothenburg, Sweden, in June.