Volvo Ocean Race: Crew 'happy to be in one piece' - Sam Davies
Last updated on .From the section Sailing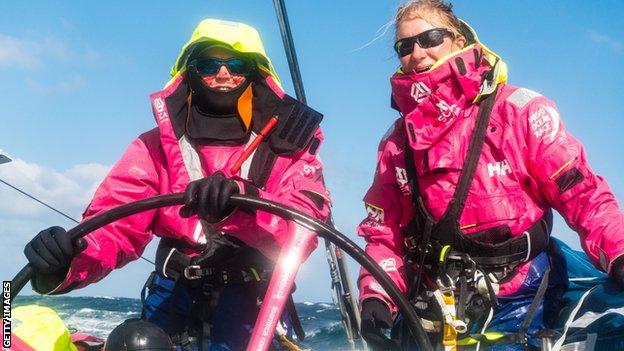 British skipper Sam Davies is "happy to be in one piece" after a gruelling fifth leg of the Volvo Ocean Race.
Team SCA, the first all-women crew to enter for 12 years, suffered a series of accidents and problems during the New Zealand-to-Brazil stage.
The team's boat lost its electronics, capsized and hit three objects in the South Atlantic Ocean.
"We made mistakes, we had things go wrong, but we fixed it all," said Davies, after finishing on Tuesday.
"We made it to dock and we're in one piece so we're happy."
Abu Dhabi Ocean Racing won the 6,776 nautical mile Auckland to Itajai stage on Sunday and lead the round-the-world race by seven points.
The race started in the Spanish city of Alicante in October, with teams visiting 11 ports in 11 countries across nine legs, and finishes in Gothenburg in June.
About the Volvo Ocean Race

The global event takes nine months to complete and covers almost 39,000 nautical miles

One nautical mile is equal to 1.15 land miles and is used for navigating and charting

The event is regarded as crewed sailing's toughest test

The race was previously called the Whitbread Round the World Race

Read more on the official race website