ISAF Sailing World Cup: Scott, Dempsey, Mills & Clark win gold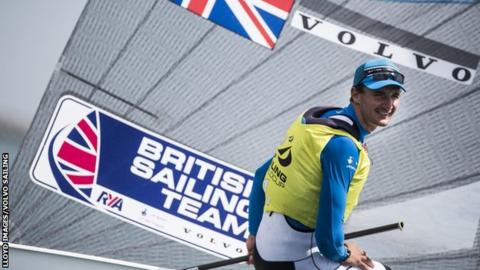 Great Britain won three gold medals on the final day of their home World Cup regatta in Weymouth and Portland.
Giles Scott picked up a "stressful" victory in the Finn class, Nick Dempsey won the RS:X men's windsurfing event while the 470 duo of Hannah Mills and Saskia Clark also triumphed.
Tom Squires and Bryony Shaw won silver medals in the men's and women's RS:X windsurfing events.
And 49er duo John Pink and Stuart Bithell landed the bronze medal.
It meant Team GB topped the Olympic classes medal standings in the fourth leg of the ISAF Sailing World Cup series. There are two more regattas to go.
Scott, who is unbeaten in the Finn class since April 2013, had to fight back from a difficult start and a yellow flag penalty.
He had a six-point lead over New Zealand's Josh Junior going into the final race, and once he had worked his way back following the penalty, he utilised his match racing skills to cover his Kiwi rival.
Scott finished ninth in the race with Junior 10th and the points were enough to secure the overall victory.
"The match race can be a little bit stressful," said Scott. "I got a bit caught at the start in all honesty. I wanted to protect the right hand side, which I managed to do, but I just didn't give myself enough run-in time to get to the line.
"The only good thing about that is that it did give me an option out to the right which put me ahead again. So it worked out all right."
There was, however, disappointment for Izzy Hamilton in the RS:X women's medal race.
Having begun the day in the lead, she sailed the wrong course at the final turning mark and had to retire from the race, finishing fourth overall.
In the the Paralympic classes on Saturday, Alexandra Rickham and Niki Birrell won gold in the SUD, Helena Lucas dominated the 2.4mR while the Sonar team of Hannah Stodel, John Robertson and Steve Thomas won silver.
John Brooker took bronze in the 2.4mR, with the rising talent beating Malaysia's Al Mustakim Matrin into fourth place on countback.