America's Cup: What is it and can Sir Ben Ainslie win it?
By Juliette Ferrington
BBC Sport
Last updated on .From the section Sailing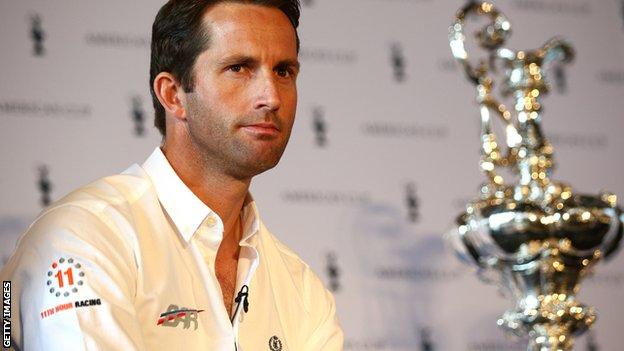 America's Cup World Series
Venue:
Portsmouth
Dates:
23-26 July
Preview:
America's Cup special with Ben Ainslie on BBC Radio 5 live on Thursday, 23 July at 20:00 BST.
Coverage:
Highlights on Red Button at 21:30 on Saturday, 25 July and 21:00 on Sunday, 26 July and BBC Two at 12:05 on Monday, 27 July.
Sir Ben Ainslie will start his attempt to win the America's Cup when the World Series takes place in Portsmouth this weekend.
Six international teams, including the Olympic champion's Ben Ainslie Racing (BAR) team, are set to take to the Solent to compete in the opening event of the 35th America's Cup.
It is the first time since 1851 there has been an official America's Cup race in the UK. But what is it, how does it work and what are Ainslie's chances of success?
What is the America's Cup?
Put simply, it is the most famous sailing event in the world and the oldest competition in international sport. The best sailors racing in the fastest boats.
One of the most difficult sporting trophies to win, it was named after a boat called America, which beat the best Britain could offer in a race around the Isle of Wight in 1851.
When you consider the country's rich maritime history, the million-dollar question in the sailing world is why Britain has never won it back.
With the next America's Cup taking place in Bermuda in 2017, Ainslie is on a mission to change that with Land Rover BAR, his Portsmouth-based team.
What is the America's Cup World Series?
It's a lengthy qualification process but the opportunity to race and carry forward points into the next stage of the competition starts this weekend, with the first round of the World Series.
It differs to the America's Cup - which is a one-on-one 'match race' - as it features fleet racing, meaning all six teams compete on the same course at the same time.
Recent America's Cup winners
2013:
Oracle (US) bt Team NZ 9-8
2010:
Oracle (US) bt Alinghi (Swi) 2-0
2007:
Alinghi (Swi) bt Team NZ 5-2
2003:
Alinghi (Swi) bt Team NZ 5-0
2000:
Team NZ bt Luna Rossa (Ita) 5-0
Defending champions Oracle, an American team, and the Swedish-backed Artemis Racing, skippered by Britain's Iain Percy, are among the competitors.
Sweden and Bermuda will host events later this year and there will be further races in 2016, including a return to Portsmouth in July.
Points collected in 2015 and 2016 will count towards the 2017 America's Cup Challenger Series, the winner of which will take on Oracle in the 2017 America's Cup.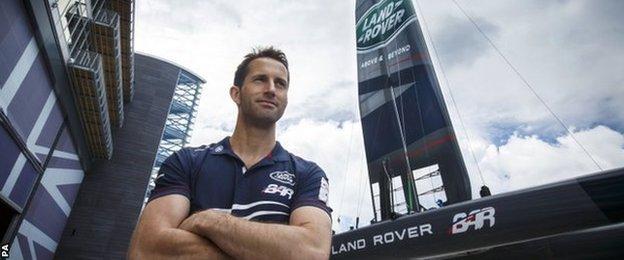 How does the America's Cup differ?
The America's Cup features two identical boats racing against each other. It's a race of speed, strategy and tactics.
The team that wins decides the format, rules and venue for the next event, which takes place roughly four years later.
Bermuda will host both the Louis Vuitton Cup Challenger Series - the final qualifying event - and the America's Cup itself in 2017.
What are Sir Ben Ainslie's chances?
Ainslie, 38, was a vital part of the Oracle team that sensationally came from 8-1 down to win 9-8 in San Francisco Bay two years ago.
He's been working on this for a very long time; in fact his first experience of the America's Cup was back in 2002.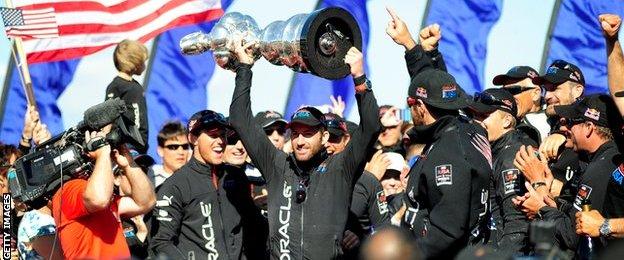 BAR is a very credible challenger and - for the first time in many, many years - Britain has a sailing team with the technical backing and budget required.
Ainslie has put together a first-class team. The standard is higher than ever and it would arguably be the biggest thing to happen in British sailing if he managed to reclaim the cup with victory over Oracle in two years' time.
Is this like Formula 1 on water?
Very much so. It's a spectacular and attractive sight to watch 45ft long catamarans flying across the water in a white ball of spray at speeds close to 50mph.
Most people who sail a boat bob around over the waves, but America's Cup boats use hydrofoils so there is no contact between the hull and the water.
You're flying across the waves with real acceleration and exhilaration.
Yachts are crewed by five-man teams - assisting Ainslie will be Giles Scott (tactician), Paul Campbell-James (wing trimmer), Nick Hutton (jib trimmer) and Freddie Carr (bowman).
The coverage
Preview racing starts on Friday, 24 July before the racing gets serious on Saturday, with two races in which every point matters.
'Super Sunday' is the 26 July finale and will decide the winner of the first event.
Tickets - both paid for and free - are still available across all four days, with a waterfront festival, a fanzone and parades of the boats taking place before the live races over the weekend.
The Duke and Duchess of Cambridge will present the prizes on Sunday.
Racing schedule (times BST)
Friday: 13:30-15:00 - Two practice races
Saturday: 13:30-15:00 - Two official America's Cup World Series races
Sunday: 13:30-15:00 - Two official America's Cup World Series races