Bangor sailor James Espey says funding cut threatens his Rio hopes
Last updated on .From the section Sailing
Olympic sailing hopeful James Espey has said that a cut to his funding by Sport NI could threaten his hopes of competing at next year's Rio Games.
London Olympian Espey, 31, is among 23 sports people who will no longer get what is called "living costs" funding.
Paddy Barnes, Michael Conlan and Stephanie Meadow are among others who will lose the funding.
"I won't be able to go to Sydney to work with my coach this winter and that's a real blow," said Espey.
The living cost funding has been in place to enable athletes to train full-time without having to worry about household bills such as fuels and phone costs.
Other big names affected by the funding cut include Paralympics gold medallists Kelly Gallagher and Jason Smyth plus other Olympians Hannah Craig, Lisa Kearney and Sycerika McMahon.
Laser sailor Espey says the loss of this funding could also mean that he will have to miss out on a number of crucial regattas in the build-up to the Rio Games.
That could ultimately put his Olympic spot in peril because while the Bangor man has secured Ireland's place in the Laser Standard class, there are a number of other Irish sailors who still have hopes of pipping Espey for the Rio spot.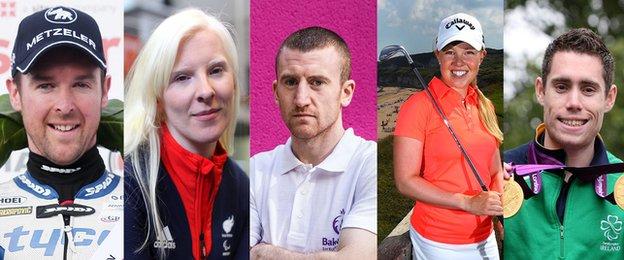 "Even though I've qualified Ireland for the Olympic spot, I still have to beat the younger guys in the trials," added Espey.
"There are events in Mexico, Miami and Brazil itself which I had intended to get to but funding those trips now will be difficult.
"The other Irish guys may be able to get to those events which would put me at a disadvantage.
"The situation now is that I'm probably going to have to find a company or private investor who will hopefully be a lifeline for me to get to the Games."
Espey's fellow Olympic sailors Matthew McGovern and Ryan Seaton are also among the 23 sports people affected by the Sport NI funding cut.
"I imagine all of us will have to cut down on events and the spending," continued Espey.
"In a sport like sailing, you don't want to start having to use bad equipment but we might have to start using older stuff.
"But the biggest problem from me is going to be effectively without a coach this winter.
"Not having a coach is going to make getting to the Olympics 10 times harder.
"Going to Sydney will be knocked on the head and it means it will be a cold winter's sailing here."
In a statement on Monday, Sport NI said that the athletes concerned could attempt to recoup some of the money from direct payments from their governing bodies.
Athletes who received Sport NI Living Costs funding
Niall McVeigh - Badminton
Sean McComb - Boxing
Michael Conlon - Boxing
Paddy Barnes - Boxing
Hannah Craig - Canoeing
James Brown - Paralympic Cycling
Kelly Gallagher - Disability Sport
Aisling Reilly - GAA Handball
Dermot McElroy - Golf
Stephanie Meadow - Golf
Paula Grant - Golf
Caomhin Thompson - Judo
Lisa Kearney - Judo
Eoin Fleming - Judo
Alastair Seeley - Motorcycling
Jason Smyth - Paralympic Athletics
James Espey - Sailing
Matthew McGovern - Sailing
Ryan Seaton - Sailing
Madeline Perry - Squash
Sycerika McMahon - Swimming
Conor Murphy - Triathlon