Hannah Mills: Olympic champion to compete in protective mask after accident
Last updated on .From the section Sailing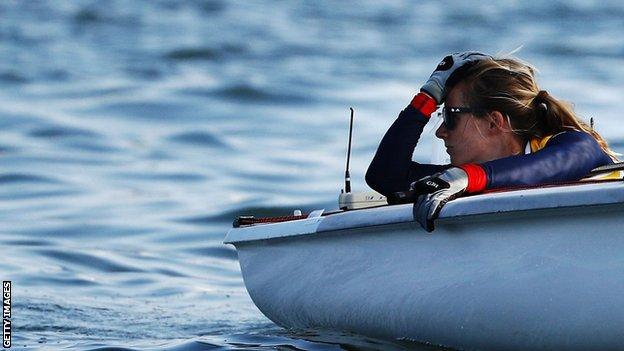 Olympic champion Hannah Mills is preparing to wear a protective mask to sail in the J/70 World Championships.
Mills spent a night in hospital in Italy and was discharged after a CT scan gave her the all clear to sail.
"I have a hideous white face mask which I might have to wear depending on the conditions," Mills told BBC Wales Sport.
"It's not very pretty but the nose would not take another battering over the immediate couple of days."
There was no sailing on the opening two days of the J/70 championships in Sardinia with Mills waiting to return to action for the final three days.
How did it happen?
Mills was injured when she was struck in the face by part of the boat she was training on ahead of the event.
"Someone who was controlling the boom swung it and unfortunately my face got in the way," said Mills.
"It resulted in a broken nose and a little bit of a brain bleed which I am told is very common if you have a big impact to the head.
"I went to the hospital and stayed overnight. I had a couple of CT scans which showed the next day the bleeding had stopped and I was free to leave."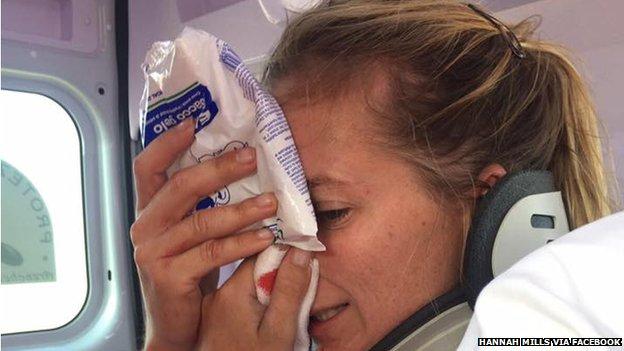 Painful experience
Mills said it was a painful, but was most bothered by the amount her nose bled.
"Everyone says with a bleeding nose you pinch it tight and tip your head back and I tried that.
"The blood was going down the back of my throat and trying to swallow it, I felt I was drowning in blood.
"That was scary and horrible you never quite know what happened.
"At the hospital I was lucky one of the girls in my boat spoke Italian and was able to translate.
"There were a few things that would have been scary like the bleed on the brain. She was there to ensure I didn't panic.
"With my broken nose I was so lucky it was a straight fracture so I still have a straight nose!"
After winds disrupted the opening two days, there are three days of sailing left in the J/70 World Championships with Mills part of an all female crew.
Accident prone
It has been an injury-plagued year for Mills since winning 470 gold in Rio last year with the now-retired Saskia Clark to go alongside silver at London 2012.
Mills has suffered two setbacks after suffering concussion in January and in late March she had stomach problems and was told to rest.
"I am hoping all my bad luck happens this year so the next three years leading up to Tokyo are injury-free," said Mills.
In between accidents, Mills has found a new partner in the 470 class and won a World Cup event and World Championship silver with Eilidh McIntyre.
Mills has now abandoned plans to move into a new boat, the 49erFX, and will instead try to defend her 470 title at Tokyo 2020.