Volvo Ocean Race: Mapfre win third leg to extend overall lead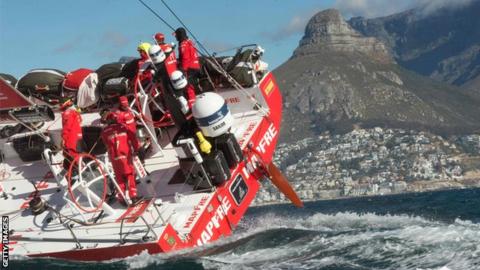 Spanish boat Mapfre won the third leg of the Volvo Ocean Race to extend their overall lead.
Mapfre finished just over four hours ahead of the Dongfeng Race Team - who are joint second overall with Vestas - to go six points clear.
Leg three took the teams 6,500 nautical miles from Cape Town, South Africa to Melbourne, Australia.
"For now it's looking good and we're very happy of course," said Mapfre skipper Xabi Fernandez.
Earlier in the race, British sailor Annie Lush injured her back when the rear grinder of her Team Brunel boat hit a wave.
Lush has continued with the Dutch team, taking lighter shifts on deck as they finished fourth in leg three to sit fourth overall.
Hong Kong's Scallywag edged to fifth place in front of United Nations boat Turn the Tide on Plastic, who are skippered by British sailor Dee Caffari.
"Shame we couldn't catch those Scallys. We tried and it was close. Hopefully next time," said Caffari.
The next leg begins on 2 January and is a 6,000-nautical-mile journey from Melbourne to Hong Kong.
The race is expected to last until late June 2018, with the yachts facing 45,000 miles of dangerous seas and unpredictable weather conditions.
Current Volvo Ocean Race standings: 1. Mapfre (29pts) 2. Dongfeng Race Team & Vestas 11th Hour Racing (23pts) 4. Team Brunel (14pts) 5. Sun Hung Kai/Scallywag (11pts) 6. Team AkzoNobel (7pts) 7. Turn the Tide on Plastic (6pts)