Volvo Ocean Race: Man dies after collision with Vestas team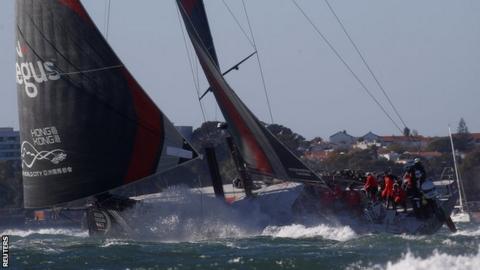 A man died after the fishing boat he was on collided with the Vestas 11th Hour Racing team during the fourth leg of the Volvo Ocean Race.
The incident happened approximately 30 miles from the finish in Hong Kong in the early hours of Saturday morning local time.
Nine other people were rescued.
All of the Vestas crew members are safe but the boat was damaged, forcing the team to officially retire from the fourth leg from Melbourne to Hong Kong.
"The Volvo Ocean Race is deeply saddened to inform that the collision has resulted in a fatality of a crew member of the fishing vessel," organisers said in a statement.
"We offer our deepest condolences to the loved ones of the deceased. All involved organisations are co-operating with the authorities and are fully supporting the ongoing investigation."
The accident overshadowed a historic victory for the Hong Kong team Sun Hung Kai/Scallywag as the city hosted the race for the first time.
The Vestas crew were reportedly in second place and being chased by the Dongfeng team when the collision occurred on the 5,800 nautical mile stage.
"This is terrible news," Dongfeng skipper Charles Caudrelier said. "It is always very dangerous when sailing in these fishing areas when there are so many boats."
The seven boats in the race started the fourth leg earlier this month, with Scallywag crossing the line in 17 days, 14 hours, 30 minutes and 42 seconds.
Dongfeng were second, with Dutch group Team AkzoNobel third and Spain's MAPFRE fourth.
The 2017-18 race is the longest in the competition's 44-year history, stretching over eight months and 45,000 nautical miles around the globe ending in The Hague in the Netherlands in late June.
The teams
| Boat | Country | Skipper (nationality) |
| --- | --- | --- |
| AkzoNobel | Netherlands | Simeon Tienpont (Ned) |
| Dongfeng | China | Charles Caudrelier (Fra) |
| Mapfre | Spain | Xabi Fernandez (Spa) |
| Vestas 11th Hour | USA/Denmark | Charlie Enright (US) |
| Sun Hung Kai/Scallywag | Hong Kong | David Witt (Aus) |
| Turn The Tide On Plastic | United Nations | Dee Caffari (GB) |
| Brunel | Netherlands | Bouwe Bekking (Ned) |
The route
| Leg | Start date | Route | Distance (NMs) | Scoring |
| --- | --- | --- | --- | --- |
| 1 | 22 Oct | Alicante-Lisbon | 700 | 8-6-5-4-3-2-1 |
| 2 | 5 Nov | Lisbon-Cape Town | 7,000 | 8-6-5-4-3-2-1 |
| 3 | 10 Dec | Cape Town-Melbourne | 6,500 | 15-12-10-8-6-4-2 |
| 4 | 2 Jan | Melbourne-Hong Kong | 6,000 | 8-6-5-4-3-2-1 |
| 5 | 1 Feb | Hong Kong-Guangzhou | 100 | 1pt for completing stage |
| 6 | 7 Feb | Hong Kong-Auckland | 6,100 | 8-6-5-4-3-2-1 |
| 7 | 18 Mar | Auckland-Itajai | 7,600 | 15-12-10-8-6-4-2* |
| 8 | 22 Apr | Itajai-Newport (USA) | 5,700 | 8-6-5-4-3-2-1 |
| 9 | 20 May | Newport (USA)-Cardiff | 3,300 | 15-12-10-8-6-4-2 |
| 10 | 10 Jun | Cardiff-Gothenburg | 1,300 | 8-6-5-4-3-2-1 |
| 11 | 21 Jun | Gothenburg-The Hague | 700 | 8-6-5-4-3-2-1 |