Volvo Ocean Race: AkzoNobel claim their first win on leg six as Mapfre lead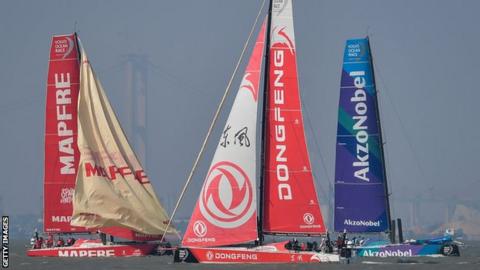 Team AkzoNobel from the Netherlands have won leg six of the Volvo Ocean Race, from Hong Kong to Auckland.
It was the Dutch team's first leg win in this edition of the race.
Team Sun Hung Kai/Scallywag, skippered by David Witt, finished second on the 6,100-mile leg.
Vestas 11th Hour Racing did not compete in this leg after damage caused in a collision on leg five that saw a fatality on a fishing vessel. Spain's Mapfre lead by five points overall.
Leg seven starts on Sunday 18 March, from Auckland to Itajaí in Brazil, which is the longest leg of the race at 7,600 nautical miles and has double points on offer.
The race ends with leg 11 from Gothenburg to The Hague, scheduled to start on 21 June.
The teams
| Boat | Country | Skipper (nationality) |
| --- | --- | --- |
| AkzoNobel | Netherlands | Simeon Tienpont (Ned) |
| Dongfeng | China | Charles Caudrelier (Fra) |
| Mapfre | Spain | Xabi Fernandez (Spa) |
| Vestas 11th Hour | USA/Denmark | Charlie Enright (US) |
| Sun Hung Kai/Scallywag | Hong Kong | David Witt (Aus) |
| Turn The Tide On Plastic | United Nations | Dee Caffari (GB) |
| Brunel | Netherlands | Bouwe Bekking (Ned) |
The route
| Leg | Start date | Route | Distance (NMs) | Scoring |
| --- | --- | --- | --- | --- |
| 1 | 22 Oct | Alicante-Lisbon | 700 | 8-6-5-4-3-2-1 |
| 2 | 5 Nov | Lisbon-Cape Town | 7,000 | 8-6-5-4-3-2-1 |
| 3 | 10 Dec | Cape Town-Melbourne | 6,500 | 15-12-10-8-6-4-2 |
| 4 | 2 Jan | Melbourne-Hong Kong | 6,000 | 8-6-5-4-3-2-1 |
| 5 | 1 Feb | Hong Kong-Guangzhou | 100 | 1pt for completing stage |
| 6 | 7 Feb | Hong Kong-Auckland | 6,100 | 8-6-5-4-3-2-1 |
| 7 | 18 Mar | Auckland-Itajai | 7,600 | 15-12-10-8-6-4-2* |
| 8 | 22 Apr | Itajai-Newport (USA) | 5,700 | 8-6-5-4-3-2-1 |
| 9 | 20 May | Newport (USA)-Cardiff | 3,300 | 15-12-10-8-6-4-2 |
| 10 | 10 Jun | Cardiff-Gothenburg | 1,300 | 8-6-5-4-3-2-1 |
| 11 | 21 Jun | Gothenburg-The Hague | 700 | 8-6-5-4-3-2-1 |