New mum & windsurfer Bryony Shaw using Jessica Ennis-Hill as inspiration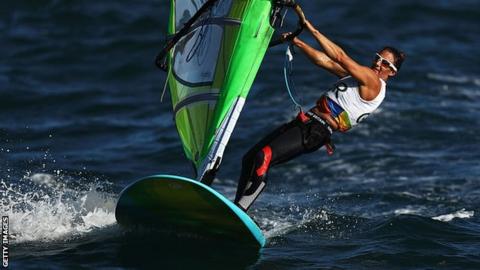 Britain's most successful female windsurfer Bryony Shaw is taking inspiration from Jessica Ennis-Hill as she looks to return to the Olympic podium after becoming a mum.
Shaw, the only British woman to have won an Olympic medal in the RS:X class, gave birth to son Jaddek last June.
The 34-year-old returned to the World Cup Series in January, and is targeting a medal at the 2020 Tokyo Games.
"It's a big decision, it's a huge goal for me," Shaw said.
"If I didn't feel success was on the horizon I wouldn't be doing it."
Ennis-Hill backed up her London 2012 heptathlon gold with a silver medal in Rio four years later, having taken time out to have her first child, son Reggie, in 2014.
Beijing bronze medallist Shaw, who finished seventh at London in 2012 and ninth at the Olympics in Rio two years ago, says there is now a lot of knowledge about returning to sport after pregnancy.
"Jessica did a great job and it is something that is really inspiring to me and hopefully I can be an inspiration to others too," she added.