Volvo Ocean Race: Mapfre final team to arrive in Brazil
Last updated on .From the section Sailing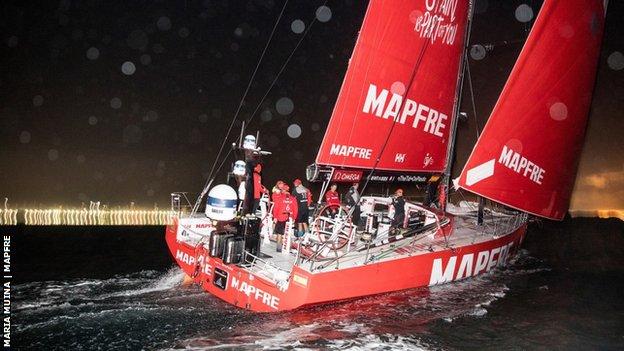 Spanish team Mapfre were the fifth and final team to arrive in Brazil after what they described as "one of the toughest legs in memory" of the Volvo Ocean Race.
Two teams retired during this seventh leg, while British yachtsman John Fisher was presumed lost at sea and Vestas lost a sail.
The eighth leg from Itajai, Brazil to US city Newport starts on 22 April.
Second-placed Mapfre are one point behind leaders Dongfeng Race Team.
Mapfre arrived in port five days after their counterparts from China, travelling the 7,600-mile leg from Auckland, New Zealand having suffered a damaged mast track which caused a 13-hour stop.
"It's been difficult for all of us," said Mapfre skipper Xabi Fernandez, whose team's sailing time was 21 days, six hours, 59 minutes and nine seconds.
"We were expecting much better, but it's not the end of the world, it's not so bad."
Mapfre said on their website: "The most extreme conditions of the Southern Ocean, with intense and continuous storms, huge waves, extremely low temperatures, and the tragic loss of John Fisher mark the 7,600-mile leg - a difficult one to forget."
Watch captain Pablo Arrarte added: "We are really happy to finally be on shore. Happy, and also wanting to prepare the next leg and continue onwards and upwards."
Volvo Ocean Race general classification (after leg seven):
1. Dongfeng Race Team (Chn, Charles Caudrelier), 46 points
2. Mapfre (Spa, Xabi Fernandez), 45
3. Team Brunel (Ned, Bouwe Bekking), 36
4. Team AkzoNobel (Ned, Simeon Tienpont), 33
5. Sun Hung Kai Scallywag (HK, David Witt), 26
6. Vestas 11th Hour Racing (US/Den, Charlie Enright), 23
7. Turn The Tide on Plastic (UN, Dee Caffari), 20