America's Cup: Ainslie wins backing for 2021 challenge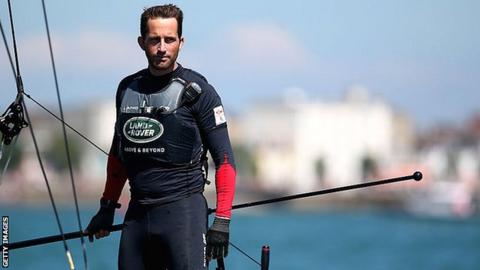 Sir Ben Ainslie will have the backing of Britain's largest privately-owned company in an attempt to win the 2021 America's Cup.
Industrial firm Ineos will team up with Ainslie, 41, in a £110m-bid to win sailing's oldest prize.
"This is an amazing boost for British sport," said Ainslie. "Britain now has its best opportunity to bring the America's Cup back home to Britain."
Great Britain has never won the Cup in the yacht race's 168-year history.
New Zealand are the current holders of the Cup, having beaten Oracle Team USA in the 2017 event.
Ainslie, who will skipper the 2021 boat, was tactician for Oracle when they came from behind to win the 2013 Cup 9-8 and is also the most successful sailor in Olympic history, with four gold medals and one silver.
Britain's challenge will consist of two 75ft foiling mono-hulls designed by Nick Holroyd, who was behind New Zealand's winning boat in 2017. British Olympic sailing champion Giles Scott is set to be the team's tactician.
Ineos, owned by Lancashire-born industrialist Jim Ratcliffe, owns a global network of refineries and posted annual pre-tax profits of £2bn this year.
"With the skill of Sir Ben Ainslie and his team, I think Ineos Team GB has a great chance of success in 2021 and I'm looking forward to the challenge," said Ratcliffe, a keen sailor whose other sporting interests include owning a Swiss football team.