Volvo Ocean Race: Seven arrests after restaurant incident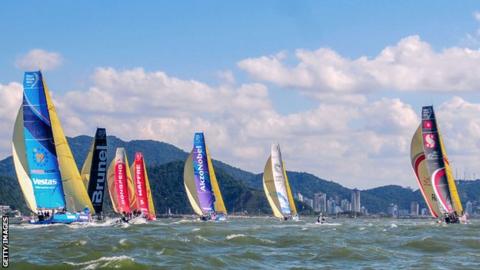 Organisers of the Volvo Ocean Race have apologised after seven people involved in the international sailing event were arrested in the United States.
They were arrested for disorderly conduct in Newport, Rhode Island, on Tuesday between stages of the race.
All seven were released after admitting disorderly conduct and paying fines.
"We apologise to the Newport community for any disturbance caused and we thank the authorities for their assistance," race organisers said.
Local reports said the arrests came after an incident outside a restaurant on Tuesday following a fire alarm.
The Volvo Ocean Race is a ninth-month long event with the 2017-18 edition consisting of 11 legs on six continents, starting in Alicante, Spain, on 22 October and ending on 21 June at The Hague in the Netherlands.
The 5,700-mile seventh leg from Itajai in Brazil to Newport began on 22 April and the boats arrived in the US on 8 May.
The next stage, which crosses the Atlantic from Newport to Welsh capital Cardiff, is due to begin on 20 May.