Volvo Ocean Race: Team Brunel win leg nine by under five minutes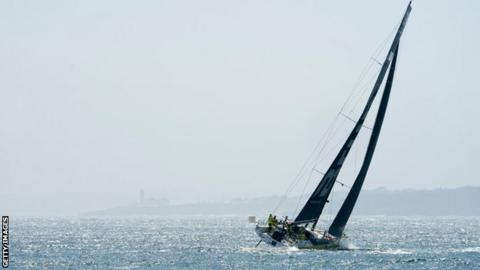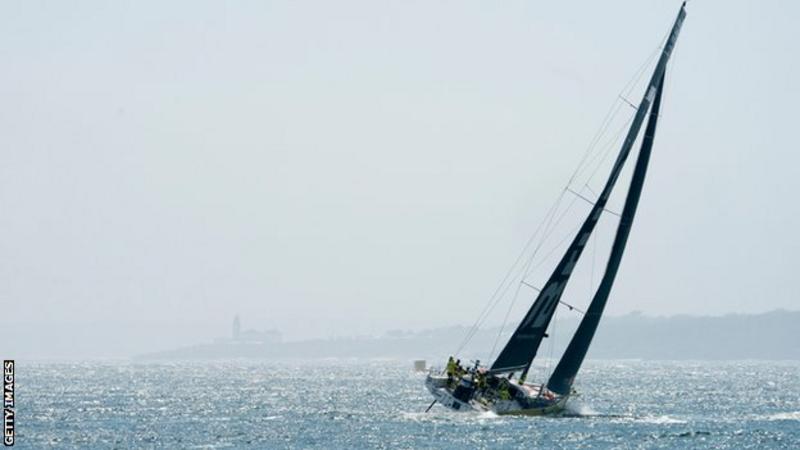 Team Brunel won leg nine of the Volvo Ocean Race as the round-the-world event stopped in Wales for the first time in its 45-year history.
The Dutch team reached Cardiff four minutes and five seconds ahead of second-place Team AkzoNobel after completing the 3,300 mile transatlantic crossing from Newport, Rhode Island.
They move to within three points of the overall race lead.
Race leaders Dongfeng Race Team finished in third place.
"Winning, of course, is nice to get the bonus point and then a nice fight to beat AkzoNobel in the end as well, so we're a happy team," said Team Brunel skipper Bouwe Bekking.
"But the aim is to keep looking forward. We've closed the gap to Mapfre and Dongfeng and victory remains our main objective."
The 13th edition of the Volvo Ocean Race began in Alicante, Spain, last October and finishes in the Netherlands next month.
The 10th leg from Cardiff to Gothenburg, Sweden, starts on Sunday, 10 June.
Cardiff is one of 12 host cities around the world, and it marks the first time the race has stopped in the UK since 2006.
The teams
| Boat | Country | Skipper (nationality) |
| --- | --- | --- |
| AkzoNobel | Netherlands | Simeon Tienpont (Ned) |
| Dongfeng | China | Charles Caudrelier (Fra) |
| Mapfre | Spain | Xabi Fernandez (Spa) |
| Vestas 11th Hour | USA/Denmark | Charlie Enright (US) |
| Sun Hung Kai/Scallywag | Hong Kong | David Witt (Aus) |
| Turn The Tide On Plastic | United Nations | Dee Caffari (GB) |
| Brunel | Netherlands | Bouwe Bekking (Ned) |
The route
| Leg | Start date | Route | Distance (NMs) | Scoring |
| --- | --- | --- | --- | --- |
| 1 | 22 Oct | Alicante-Lisbon | 700 | 8-6-5-4-3-2-1 |
| 2 | 5 Nov | Lisbon-Cape Town | 7,000 | 8-6-5-4-3-2-1 |
| 3 | 10 Dec | Cape Town-Melbourne | 6,500 | 15-12-10-8-6-4-2 |
| 4 | 2 Jan | Melbourne-Hong Kong | 6,000 | 8-6-5-4-3-2-1 |
| 5 | 1 Feb | Hong Kong-Guangzhou | 100 | 1pt for completing stage |
| 6 | 7 Feb | Hong Kong-Auckland | 6,100 | 8-6-5-4-3-2-1 |
| 7 | 18 Mar | Auckland-Itajai | 7,600 | 15-12-10-8-6-4-2* |
| 8 | 22 Apr | Itajai-Newport (USA) | 5,700 | 8-6-5-4-3-2-1 |
| 9 | 20 May | Newport (USA)-Cardiff | 3,300 | 15-12-10-8-6-4-2 |
| 10 | 10 Jun | Cardiff-Gothenburg | 1,300 | 8-6-5-4-3-2-1 |
| 11 | 21 Jun | Gothenburg-The Hague | 700 | 8-6-5-4-3-2-1 |