Scottish FA's 'long-term' battle against sectarianism
Last updated on .From the section Scotland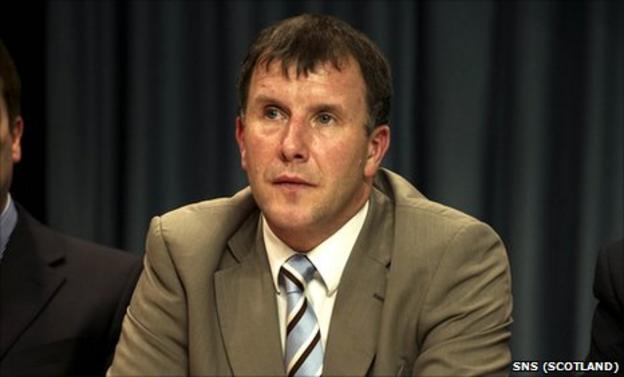 Scottish FA chief executive Stewart Regan fears it may take a generation to completely eradicate sectarianism from the Old Firm derby.
Regan was addressing a Culture Media and Sport select committee inquiry into football governance at Wembley Stadium.
"It's a big issue, it's one that's been around again for 100 years or more, and we're not going to solve it overnight," said Regan.
"It requires the need to start at school level and look at education."
At the select committee, Paisley and Renfrewshire North MP Jim Sheridan referred to the issue of sectarianism as "that poison, that sickness".
And Regan insists tackling the problem requires a collective approach, involving Celtic, Rangers and others.
"Tomorrow (Wednesday) we're actually meeting with the Old Firm, with the police and with members of the Scottish government to discuss what can be done," Regan said.
"It can't rely on one body to address it. I think it needs a whole concerted effort on behalf of everybody."
Regan also commented on the dominance of the Old Firm in Scottish football, saying: "It's not a good thing for the game but Rome wasn't built in a day.
"I've been in the post for six months. That's been in place for 100 years and I think it'll take a little bit longer than this financial year for me to change it."
One thing Regan is actively looking to change in the short term is to restructure the SFA, including streamlining the disciplinary system and reducing the main board from 11 to seven members to make it "less of a representative board and more of a strategic board".
This new board would initially consist of the chief executive, president, two vice-presidents, members of the proposed professional and non-professional game boards and an independent non-executive director.
"In four years' time - subject to our member clubs' agreement at the AGM - we will removed the second vice-president position and replace that with a second independent non-exec director, thus making the board much more in tune with normal blue-chip companies and normal corporate codes of governance," said Regan.
Meanwhile, Regan revealed the SFA could become involved if current Scottish Premier League champions Rangers were forced into administration.
Concerns have been raised about the Ibrox club, who have debts of about £21m and are subject to an ongoing tax enquiry against the backdrop of a protracted takeover bid by businessmen Craig Whyte and Andrew Ellis.
And Rangers' banker's Lloyds have denied suggestions that its demands are styming a takeover.
"Yes, we should take an interest in these matters but we have delegated day-to-day responsibility to the leagues," added Regan.
"We would only get involved if there was a major appeal or a major issue.
"We got involved when Dundee went into administration (in October)."