Neymar refuses to apologise to Scots fans in racism row
Last updated on .From the section Scotland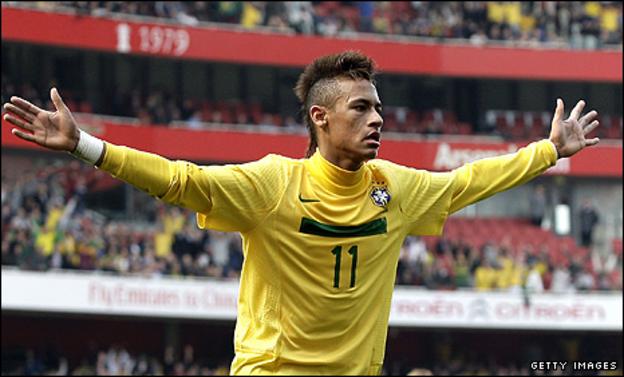 Brazil striker Neymar is refusing to apologise for allegations of racism during his side's 2-0 friendly win over Scotland at Emirates Stadium.
An investigation revealed that a banana thrown on to the pitch came from a German sitting among Brazil fans.
And Scotland midfielder Scott Brown is the latest to call for an apology.
But Neymar says that, while he condemned prejudice in general, at no time did he accuse any particular group of supporters after the match.
"I was surprised on Thursday by a letter from the Scottish FA in which they demand an apology from me or from the Brazilian Football Confederation regarding the incident involving a banana thrown toward the field," he told his own official website.
"Stewart Regan says that the 'accusations' made after the match cast doubt on the reputation of 'good-humoured and respectful' Scottish fans.
"At no time, even at the end of the game, still enveloped by the thrill of scoring the two goals that won the game, did I accuse any person or any group of supporters, of whatever nationality, of having committed such an act.
"All the interviews I gave at the end of the match, in Portuguese, are available for consultation with media companies that covered the friendly.
"Yes, I did lament the fact, condemn any and all prejudice, but I repeat, at no time did I accuse anybody. So I do not understand why I have to retract what I said.
"The requirement from the Scottish, after all that happened, seems somewhat ironic, since, if there has been prejudice, it is us, the players, who should 'require' a formal apology."
Neymar was jeered by some Scots fans who felt he was play-acting when he received treatment in the first half of Sunday's game after a challenge by Scotland midfielder Brown.
The Santos forward also won the penalty, following a challenge from Charlie Adam, that sealed Brazil's win in London.
A subsequent investigation by Arsenal and the Metropolitan Police concluded that a banana was thrown by a student sitting in the area of the stadium reserved for Brazilian supporters and that no Scotland fans were involved.
Celtic captain Brown, ahead of his club's match against Inverness Caledonian Thistle, said: "We are not a racist country and we know it wasn't us, it was some young lad from Germany.
"I think they should just apologise and get it over and done with."
Writing to demand an apology, SFA chief executive Regan pointed out that the Tartan Army were praised for their conduct by match commander Mark Sheeran.
"It is very disappointing that this episode threatened to overshadow an entertaining match, played amidst a real carnival atmosphere created by supporters of both teams," said Regan.
"Scotland and Brazil have played many times over the years, each time in a colourful and friendly environment, and we feel that it's necessary to draw a line under Sunday's events.
"Scotland's supporters were genuinely upset and annoyed that the unfounded allegations levelled against them threatened to sully their reputation as fair, good humoured and respectful spectators.
"As the matter has been resolved, and Scotland supporters cleared of any involvement, we felt it was only right that we acted on behalf of our supporters to request an apology either from the player involved, or the Brazilian FA."