No evidence of bias at SFA - Gordon Smith
Last updated on .From the section Scotland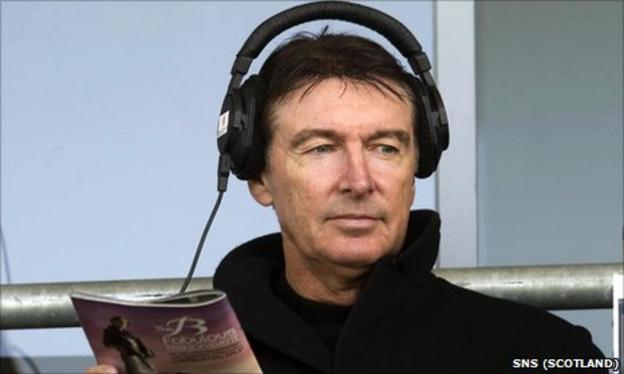 Former Scottish Football Association chief executive Gordon Smith has defended the organisation against accusations of bias.
The lawyer who represented Celtic manager Neil Lennon before the SFA, Paul McBride QC, has made such a claim.
"To say bias in favour of anybody, I don't think so," Smith told BBC Scotland. "But it's hard to get that across. People have that mindset.
"I never saw any evidence of any bias whatsoever in almost three years."
Smith stood down from the post in April last year, having taken up the job in 2007, and he was succeeded by Stewart Regan in July.
McBride's assertion that the SFA is "the laughing stock of world football" came after Rangers assistant Ally McCoist won his appeal against a touchline suspension and Madjid Bougherra and El-Hadji Diouf avoided further bans for misconduct.
Diouf and Bougherra escaped with fines of £5,000 and £2,500 respectively and a warning over their future conduct.
Both players were red-carded in the 1-0 Scottish Cup replay defeat at Celtic Park on 2 March but were not handed further bans after facing the SFA's disciplinary committee to answer a case of "misconduct of a significantly serious nature".
McCoist successfully appealed against a two-match ban after being charged with misconduct for clashing with Lennon at the end of the game.
On hearing the decisions, an outraged McBride added that the SFA "have been shown to be not merely dysfunctional and not merely dishonest but biased".
Celtic boss Lennon was careful to distance himself from the comments made by McBride but was puzzled by the decisions reached on Tuesday by the SFA's disciplinary committee.
"I find it interesting that, after all the fall-out from that game, I am the only one who has been banned," Lennon told BBC Radio Scotland.
"If you think it is fair then a lot of people are burying their head in the sand on this one."
Lennon chose not to appeal the automatic suspension meted out for his touchline clash with McCoist, therefore Smith thinks the two cases cannot be compared.
"The two instances are not like-for-like," he explained.
"Neil Lennon admitted guilt by not appealing against the ban.
"Ally McCoist did appeal, his case was heard and he won that case."
The former chief executive did admit to being surprised that Bougherra had escaped with a fine and a warning after twice grabbing hold of referee Calum Murray during a stormy match at Celtic Park.
"I thought he would receive a greater punishment," said Smith.
"At the time, for the very fact he put his hand on the referee, I thought he would get a further one-game ban, even it was just to apply to the Scottish Cup.
"But I don't know how the decision was made or what the evidence was, so I can't really comment on that."
Smith's successor, Regan, had been quick to condemn the behaviour of Bougherra and Diouf at Celtic Park.
The day following the match, he said: "Only a matter of months after our referees withdrew their labour, we had to witness the match official, Calum Murray, being manhandled, while another player who had been dismissed brazenly walked to his own supporters in defiance."
However, Smith explained that Regan and his SFA colleagues were in no position to influence the verdicts reached by their various committees.
"The decisions were made by committees and they are made up of football people who are representative of the Scottish game," he added.
"There are no SFA employees on any of these committees. But the criticism in general will come for the organisation."
Regan has already secured the backing of the SFA board to streamline the disciplinary process, with those reforms to be voted on at the annual meeting on 6 June.