Kenny Clark fears new Scottish ref strike
Last updated on .From the section Scotland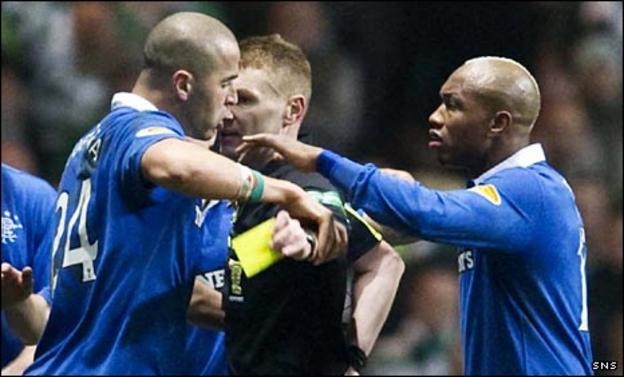 Retired grade one referee Kenny Clark fears match officials in Scotland may consider more strike action.
Clark was dismayed after Rangers' Madjid Bougherra escaped punishment for grabbing a referee's wrist.
"I suspect most referees will be shaking their heads in disbelief," Clark told BBC Scotland.
"I think they'll be wondering if people have very short memories in relation to what happened earlier this season and their withdrawal of services."
Bougherra and team-mate El Hadji Diouf were both sent off when Rangers lost a Scottish Cup replay at Celtic on 2 March.
As well as an automatic ban for next season's tournament, the players faced charges of "serious misconduct", but each escaped with fines after going before the Scottish Football Association's disciplinary committee.
Bougherra was shown a second yellow card in stoppage time and reacted angrily, appearing to try to prevent referee Calum Murray from showing his cards.
The defender also held on to Murray's wrist after the first-half dismissal of team-mate Steven Whittaker.
"It's an extraordinary decision, particularly in relation to Madjid Bougherra, that's the aspect that worries me most," said Clark.
"Players must know that it is entirely unacceptable to lay hands upon match officials.
"This decision from the SFA disciplinary committee sends out the wrong message to players at every level."
Diouf was booked after a first-half flashpoint on the touchline and he was shown a second yellow card for dissent after the final whistle.
"If the disciplinary committee had applied common sense to this situation, they would have recognised that everybody regarded the conduct of both Madjid Bougherra and El Hadji Diouf as extraordinary - and I mean that in a bad sense," continued Clark.
"The SFA labelled it serious misconduct, but the punishments meted out don't seem to me to treat it that way.
"I would say the disciplinary committee are not living up to their name and have conducted themselves in an incompetent manner on this particular occasion, especially in regard to Madjid Bougherra."
Referring to November's unprecedented decision to strike by Scottish referees, Clark went on: "That was brought about by concerns about the level of abuse being directed towards them - and that impacting upon their families.
"Here we have a situation with a player in a highly intense, heated situation was laying hands upon the referee and failing to leave the park when ordered to do so.
"Then we had Diouf at the end of the game also failing to leave the park when ordered to do so.
"All of the match officials in Scotland will be thinking, where is the strong lead coming from that they were promised by the SFA?
"I think they will be very unhappy and concerned at this latest development.
"I doubt very much that there would be any further action before the end of the season.
"And I'd like to think there would be some changes made over the summer to make referees think they are getting greater support."
SFA chief executive Stewart Regan has promised to streamline the disciplinary procedure, with those reforms to be voted on at the annual meeting on 6 June.
"Stewart Regan, at the time of the withdrawal of labour by referees and again in the immediate aftermath of this Old Firm match, talked in very strong terms about giving support to match officials," added Clark.
"Unfortunately, his disciplinary committee don't seem to be following his lead.
"It will certainly be frustrating for Stewart Regan and I think he will do what he can to appease the referees by saying he will try to bring about change, which will allow stronger action to be taken, perhaps without relying on committee-type structures.
"But I think he has a difficulty in that respect and that's the big problem facing the SFA and Scottish football."