Scottish Premier League to propose British League Cup
By Chris McLaughlin
BBC Scotland
Last updated on .From the section Scotland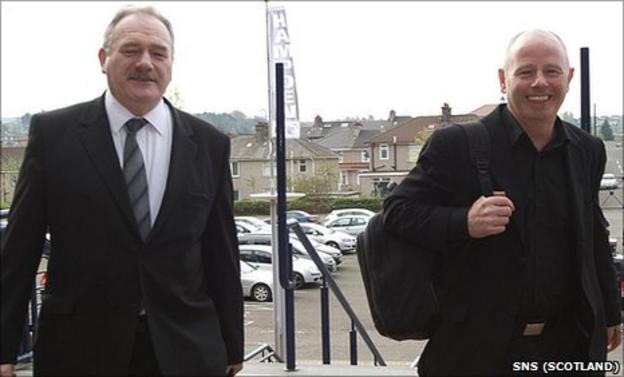 The Scottish Premier League will explore the creation of a British League Cup if plans for a major shake-up of the game are ratified.
BBC Scotland has gained access to the SPL's 100-page strategic plan, which includes plans for a 10-team SPL.
It shows a desire to merge with the Scottish Football League in the summer - and a cross-border competition.
Clubs met at Hampden on Monday as they seek a consensus on a number of issues including league reconstruction.
A new league set-up has been driving the change among the SPL's members, but there are a number of other objectives that clubs are being asked to back in a bid to turn around the fortunes of the Scottish game.
The document makes specific reference to unification of the SPL and SFL with an attractive reason being to "enable the SPL to explore the possibility of cross-border matches (potentially British Cup matches) via the Scottish League Cup".
The idea of a British club tournament has been proposed in recent years, with a 2001 proposal backed by Aberdeen chairman Stewart Milne, which was ultimately rejected by the Football League in England.
In 1902, a British League Cup competition raised money for the Ibrox Stadium disaster and included the winners and runners-up of the Scottish and English Football Leagues.
Several other official and unofficial cross-border competitions have also taken place over the decades, including the Empire Exhibition Trophy in 1938, the Coronation Cup in 1957, the Texaco Cup and the Anglo-Scottish Cup.
Some other proposals included in the SPL's strategic plan include:
The national team's Fifa ranking to improve from 66th to 15th within five years

The SPL's coefficient ranking to improve from 16th to 10th in five years

Broadcasting revenues to increase by 50% in five years

The Scottish Football Association to make payments to clubs when players are on international duty
A draft of the document was discussed at a meeting on 7 January but has since been re-drafted after prolonged deliberations over a number of months.
BBC Scotland has learned that a vote on the proposals should finally take place in mid-May.