Football fans are a big bunch of losers
By Paul Bradley
BBC Sport Scotland
Last updated on .From the section Scotland
FFIT, Football Fans in Training, is an initiative from the Scottish Premier League Trust that aims to address the health problems of Scotland's unfit males. I'm taking part and sharing the results as I participate.
I started the programme three months ago and over this time I've made some significant changes to my daily eating, drinking and exercise habits.
In fact I'd go so far as to say that it's taken over my life and, much to their chagrin, that of my wife and children too as there has been a significant lack of chocolate biscuits in our house.
And, happily, not because I had eaten them all.
Like all of the participants on the course, I've taken account of my portion sizes, I've supped at the 'eat-well plate' , taken stock of my alcohol intake and increased my exercise levels.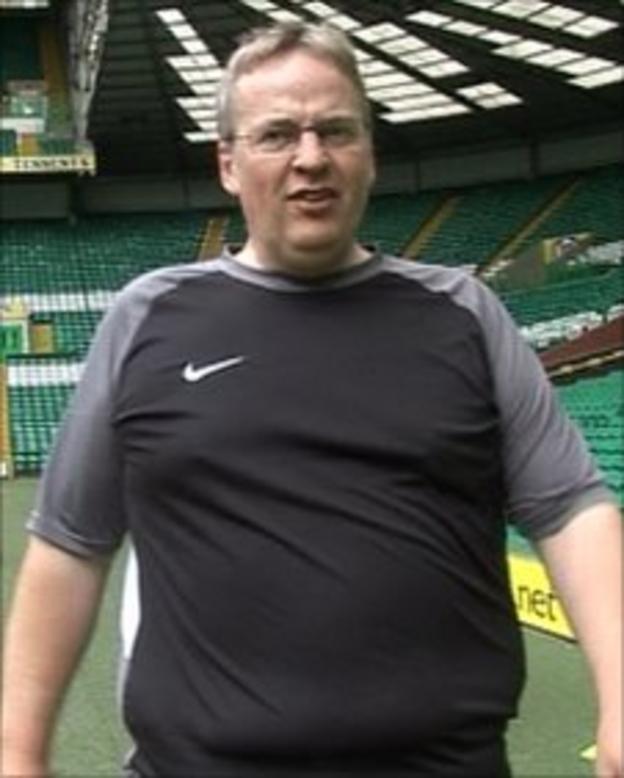 So how did I do?
I'll share that information at the end, but before I do, I just have to give my impression of the course as a whole.
I'll not say that all of the changes I've made have been easy but I will say that they have definitely been made less painful by the people that I have encountered.
The coaches are simply amazing.
We in the media can be somewhat critical of the Scottish game from time to time and we don't always appreciate the good work being done by clubs off the park and in our communities.
I believe that the connection between FFIT participants and their club, as well as each other, is vital to their own personal success with the programme.
Every single one of my fellow attendees have lauded the programme. I haven't encountered a single one who has not enjoyed or benefited from the course.
That is unusual in itself. When was the last time you ever heard of football fans not complaining about something?
There I go - media guy being negative. Do you see what I mean?
Seriously though, the closest thing to a complaint I heard was that the project wasn't long enough and that they wanted to keep going with it, or that they had to go out and buy a new wardrobe as clothes were now too big for them.
Kevin Mitchell is a lifestyle development officer and one of the coaches at the Kilmarnock FFIT course. He told me: "It's been a tremendous success in terms of physical changes that they have made and looking at the lads tonight you can see the enjoyment they've got out of the 12 sessions.
"They've put in a lot of hard work and are obviously proud of what they have achieved."
And so they should be, Kevin.
So, it's with a tad of humility that I jump to the weigh-in at the end of my course.
I have reduced the girth of my belly by three inches, dropped my body mass index (BMI) by three points and lost nine kilograms or nearly one-and-a-half stones, which added up to me being the 'biggest loser' at Celtic Park.
However, I was far from claiming that title across the whole programme.
Around the SPL clubs that I've managed to visit, I've heard inspiring stories. Grant Thorburn, a Hearts fan, has lost an amazing 27.3 kg or 4.25 stones!
John Joyce, community coach at Rangers told me:" We have lost a combined total of 40 stones over the two courses that we've run so far."
That's the equivalent of four average people. But there's something above average in the people that have been doing the losing.
The worrying statistic that faces our country is that 75% of men aged 35-65 are overweight, a third of them clinically obese.
The football fans in training are doing their best to bring that stat down, and I've been proud to play a wee part in it myself.
And who knows, if you read this you might want to try it yourself. You should, you'll enjoy it.