Houston rejects Pardew criticism of Scottish game
Last updated on .From the section Scotland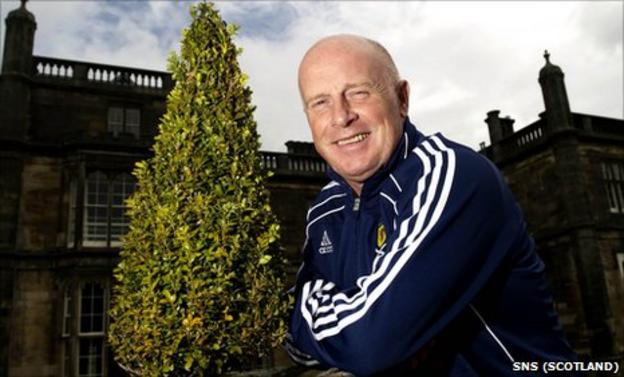 Scotland assistant Peter Houston contests Alan Pardew's damning critique of the Scottish Premier League.
In discussing goalkeeper Fraser Forster's season on loan at Celtic, the Newcastle boss revealed that he was unimpressed by SPL standards.
Pardew was quoted as saying: "I think he's coming back to a completely different level of football."
Houston responded with: "We have internationals playing in the SPL who could walk into the Newcastle team."
Forster returns to Newcastle having made 44 appearances for Celtic but Pardew believes his player was not given a rigorous workout.
"We have watched that division and watched him all year," explained the Magpies' boss.
"We've been disappointed with the quality of the games, other than the occasional Rangers versus Celtic game, and even some of those have been poor."
When Dundee United manager Houston was made aware of the derogatory comments, he was quick to praise the players he will be overseeing on international duty against Wales and Republic of Ireland this week.
"They play at a very high level in European football, on a number of occasions as well," he said.
"If you take Rangers, for instance, their runs in Europe in the last couple of years have been fantastic so that's them playing at a high level and in the SPL.
"Scott Brown has played in the Champions League for Celtic as well.
"Alan is entitled to his opinion but it is not something with which I agree."