Rhona McLeod takes to the ice with champ Eve Muirhead
By Rhona McLeod
BBC Scotland
Last updated on .From the section Scotland
I was in Ogden, Utah for the final of the Olympic Games curling competition - Great Britain against Switzerland.
This was my first time as a curling spectator - not a bad match to see!
It felt like an impossible task and the tension was almost painful.
How Rhona Martin held her nerve I will never know - but, of course, she did.
Her gold medal-winning performance will long remain in my memory as a moment of sporting genius.
And now nine years later I had the opportunity to step on the ice for the first time and learn from the woman who follows in her footsteps.
Eve Muirhead is an equally impressive sportswoman who holds the record for world junior titles and she also plays golf off a handicap of two!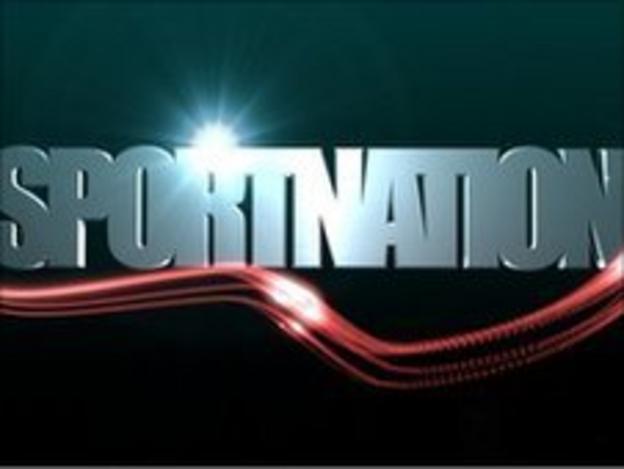 She led a group of us complete novices from falling over just sliding on ice, to actually being able to throw a stone the length of the rink.
First to be tackled was walking on the ice with a slippy and grippy foot.
We wore running shoes with what looked like a blue surgical cap over our shoe - that's the "slippy" part.
Most people wear this on their left foot as they will throw the stone with their preferred right hand.
Although right-handed, I am extremely left-footed and for balance sports like snowboarding and riding a scooter I am most comfortable with my weight on my right foot forward - so I confused the issue a little!
So, pushing with our grippy foot and gliding on the slippy, we approximated the look of a curler on the ice.
Sweeping lesson was hard work indeed. Eve explained how the ice is sprayed with water, which when freezing, gives the surface a pebbled effect.
The job of brushing is to smooth the ice which increases the speed of the stone.
Then it was time to place our grippy foot in the hack (which looked like starting blocks) and push off in the traditional curling manner.
Now, this looks much easier than it actually is. It feels more like trying to do the splits on ice while attempting to glide forward in a balanced and elegant manner.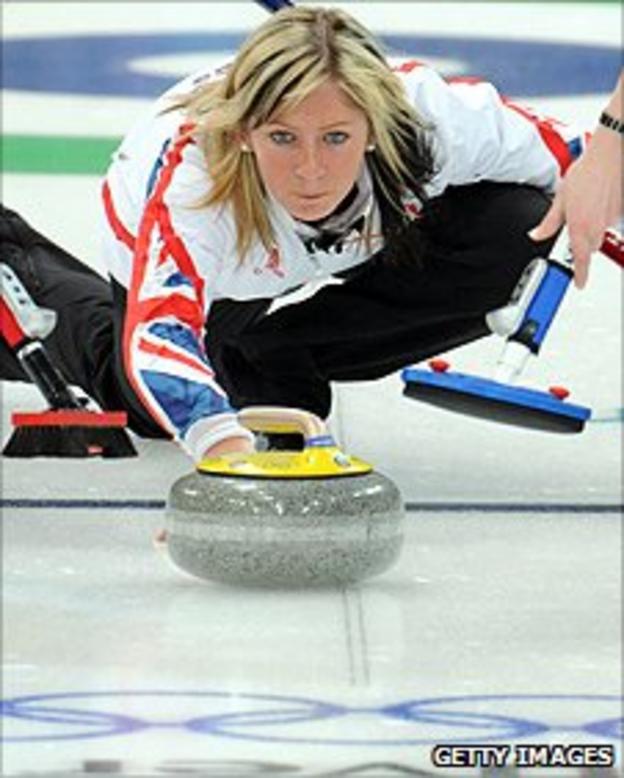 The first attempt was made leaning on two curling stones - they acted like stabilisers.
And then the great moment came.
With broom placed under my right arm for balance, left foot in the hack, right foot ready to slide and left foot on the stone it was time to attempt the whole movement!
It wasn't too bad, in truth - a few wobbles and the stone only moved about 10 feet, but overall not too bad!
The stone naturally wants to rotate on the ice and Eve explained "handles".
Basically, we turned the handle of the stone on release which helped it to arc in our out to the target.
Certainly we had the accelerated programme of how to become a curler, but after a couple of hours, we novices managed a match.
Aiming was somewhat of a lottery, but we mostly managed to throw with consistency for length.
Without doubt, my admiration for the skills of Rhona Martin and Eve Muirhead is even greater than before.
In 2002, I witnessed one of the most incredible moments of triumph against all odds in the sporting world.
Watch Rhona and Eve on Sport Nation on BBC Two Scotland at 1900 BST on Tuesday 7 June.