The moment Seve became an icon
By David McDaid
BBC Scotland
Last updated on .From the section Scotland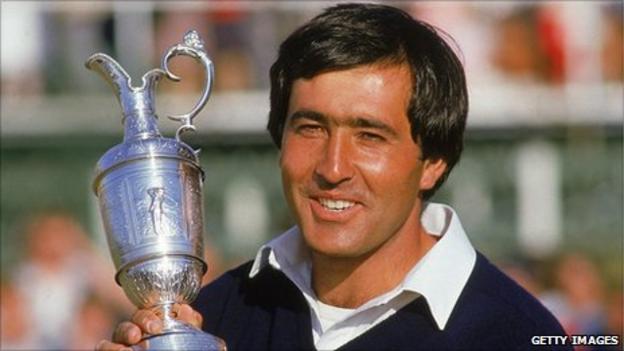 In a long and distinguished career, Seve Ballesteros won more than 90 tournaments, including the Masters twice, three Open Championships and the Ryder Cup as both player and captain.
But, of all the triumphs and successes, one moment has been immortalised in golfing history more than any other.
His Open win at St Andrews in 1984 was not his first major - in fact it was his penultimate - but it was by far his personal favourite.
Trailing Tom Watson on the final day, the Spaniard came back to win by two shots at the spiritual home of golf, denying his rival a third successive Open.
His final putt on the 18th green from 12 yards made its way towards the hole and appeared to hang for a split-second on the lip before dropping in.
Cue one of the most iconic releases of emotion that golf has ever witnessed.
Speaking as he battled cancer before last year's Open at The Old Course, Ballesteros expressed how much St Andrews and that win meant to him.
"St Andrews is the greatest place, for me, in golf and the place where I lived the greatest moment of my career," he told BBC Sport.
"When I holed the putt and said 'La meti, la meti' ('I put it in, I put it in') and all the fans were clapping… it was a glorious moment for me."
More than a quarter of a century on, it is still a cherished memory for golf fans.
BBC commentator Ken Brown, a former Ryder Cup player, was a close friend of Ballesteros.
The Scot finished joint-13th that year and was already driving home following the latter stages of the tournament on the radio.
"The commentary was fantastic and you got a sense of the crowd and the atmosphere," he said.
"I knew how important it was to Seve to win the Open at St Andrews.
"But, when I saw it later, you saw how much it really did mean to him.
"I was a young player - the same age as Seve - and it gave all of us players a bit of confidence to think: 'maybe one day I can be good enough to do it'."
Brown never did hold aloft the famous Claret Jug, but fellow Scot Paul Lawrie did in 1999 at Carnoustie.
But, if not for Seve 15 years earlier, that might never have happened.
"He was the reason I started to play golf," Lawrie said.
"Who could ever forget '84, with the celebration that Seve did?
"Back then, I would have been 15 and I remember watching it at home when he won.
"The putt didn't look like it was going to drop, but he just sort of willed it in.
"Seve was the guy I wanted to watch - he was exciting and charismatic."
It wasn't only fellow and future golfers that Ballesteros inspired that day.
Stuart Glen, a charity fundraiser, was among the thousands of ordinary fans watching the final round at St Andrews.
As a 14-year-old, he and his friend took the train to Fife and didn't move from their spot overlooking the final green all day.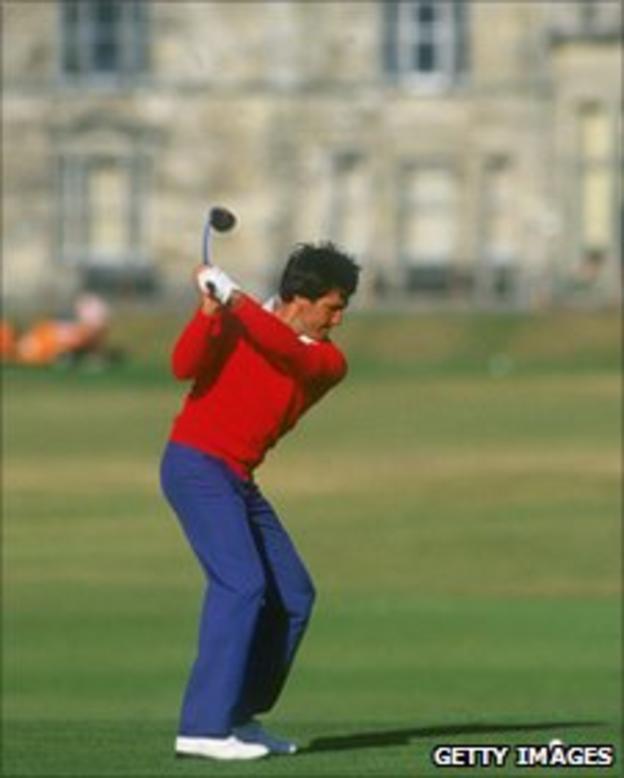 "Growing up in the east end of Glasgow, golf had a certain image and Seve just shattered those illusions," said Glen.
"Everybody remembers his fist-pump, but it's the subtlety of what it meant to us growing up that mattered.
"He began playing golf with a single club on the beach. It made anything seem possible."
The victory was so special to Ballesteros that he tattooed a silhouette of his celebration on his left forearm.
He later used it also as the logo for his cancer research charity, the Seve Ballesteros Foundation.
David Cannon was one of the many photographers who had congregated around the 18th green and captured that image.
"Seve was a photographer's dream and one of the very few who always guaranteed to give you a memorable photo," he said.
"When he follows through with his big punch, I was in the wrong position.
"But he milked the crowd and the celebration went on for such a long time that some other guys ran out of film by the time of the famous image.
"It's an amazing thrill to have taken that shot. I'm proud of that image."