Mark Wotte is Scotland's first performance director
Last updated on .From the section Scotland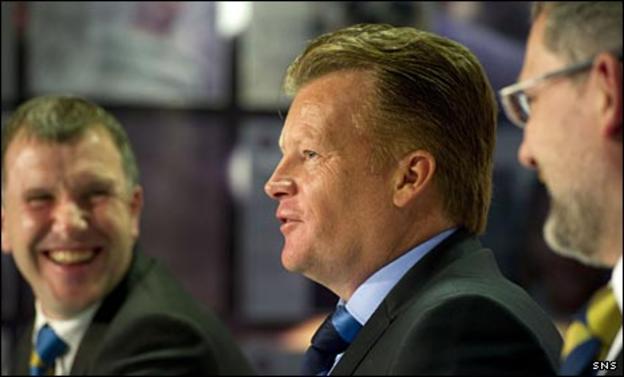 Former Den Haag and Southampton boss Mark Wotte has been chosen as Scotland's first performance director.
The 50-year-old is a former technical director with Feyenoord and has managed clubs in Egypt, Qatar and Romania as well as his homeland and England.
Wotte was in his second spell at Egyptian top-flight side Ismaily.
Scottish Football Association chief executive Stewart Regan said: "This is the key appointment that could turn around Scottish football."
The SFA had stated before announcing the appointment that the post would not be filled by a top coach or manager as it would require a combination of coaching and administrative experience, as well as political awareness.
Regan said that the successful candidate would be asked to "develop a new Scottish style of play" and suggested that the creation of the role was the single most important recommendation in the Review of Scottish Football carried out by former First Minister Henry McLeish.
Wotte will focus on developing elite players from the grassroots to the senior men's and women's national teams in a role that had been honed following "extensive consultation with the league bodies, SPL and the SFL, and their members, along with key players in Scottish sport, including Sir Alex Ferguson, David Moyes, Walter Smith and Ian McGeechan".
He will work alongside team coach Craig Levein, who said: "He was the best candidate by a mile. He ticks all the boxes.
"This is a pivotal day for the future of the game in this country.
"I have long championed the cause for a more consistent and collaborative approach to elite player development and Mark's arrival gives us that opportunity.
"He will be a vital part of the machinery in the conveyor belt of talent in this country and will play a key role in assisting the clubs and the Scottish FA in maximising the potential of our most talented footballers."
The Dutchman was a defender with Vlaardingen, Feyenoord, Den Haag and SVV before injury ended his playing career in 1986.
During his long managerial career, Wotte's clubs have included Den Haag, Utrecht, Den Bosch, Willem II Tilburg and Waalwijk in his homeland, Qatar outfit Al Ahli, Romanians Universitatea Craiova and Southampton.
Wotte, who also had a spell in charge of Netherlands Under-21s, had joined the Saints in 2008 to look after the youth set-up but was appointed head coach in January 2009 following the resignation of Jan Poortvliet.
However, after the Championship outfit went into administration, he was not retained following the takeover by Markus Liebherr.
Wotte, who has been given a rolling contract and will be based in Scotland, says that his new country's performance leading up to the 2014 World Cup will be the test of whether he has been successful in his new role.
"It is a hell of a challenge, but I'm pleased to be here," he said, Scotland having failed to qualify for the last six major international competitions.
"This is a key role in the modern game and it is my intention to help restore Scottish football to its former glory.
"Qualifying for major championships again is the main priority, but we can no longer leave it to chance: Scottish football must work collectively and strategically to ensure we cultivate the most talented players at all age groups.
"This country is renowned across the world for its unparalleled pride and passion: now we must add performance to those qualities once again."