Wotte needs financial backing - Jimmy Calderwood
Last updated on .From the section Scotland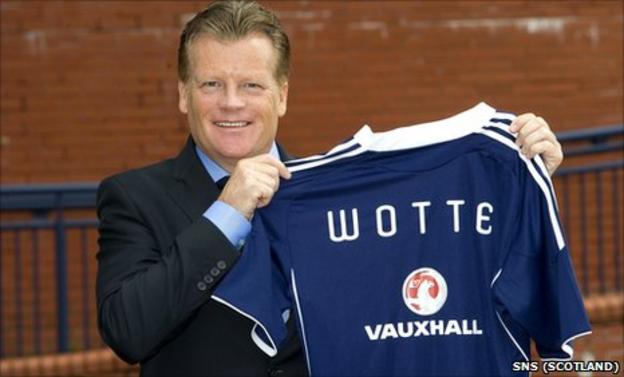 Jimmy Calderwood fears the Scottish FA's new performance director Mark Wotte may struggle to make an impact without a large increase in funding.
The former Dunfermline and Aberdeen boss knows Wotte from his coaching days in the Netherlands.
"Mark is a very conscientious lad," Calderwood told BBC Scotland. "He knows the Dutch way inside and out.
"There is a lot wrong at grassroots level in Scotland and so much of that is down to finances."
Wotte was announced as Scotland's first performance director on Thursday and the 50-year-old Dutchman will be in charge of overseeing elite player development at every level.
A former technical director with Feyenoord, he has managed Netherlands Under-21s and clubs in Egypt, Qatar and Romania as well as his homeland and England.
"I think there is always talent everywhere in the world," said Wotte.
"But you have to identify this talent and you have to work with this talent and get them in an environment that is healthy for these young boys to grow as a player without thinking of anything else.
"I think this is going to be a long-term job. Every time people talk about youth development, they want to see results tomorrow. This is not possible."
Calderwood, who managed Dutch clubs Willem II and NEC Nijmegen, is also stressing that there will be no quick fix for Scotland.
"If he can get things done, then fabulous," added the 56-year-old. "But he's going to have to knock down a few walls first, I think.
"The Dutch get most things right. Up until the age of nine or 10 we can match them but something goes wrong after that.
"There are a lot of good coaches in Scotland that maybe don't get the chance because it's all about winning. I don't think the Dutch see it like that.
"I was watching my grandson playing in Holland and the facilities were incredible. Every kid has a ball. The more touches of the ball you get, the better you're going to be, it's quite simple.
"We're losing a lot of kids because we don't have indoor facilities and a lot of youth clubs just don't have the finances.
"In Norway, I think they have 50 indoor facilities. That's always been a massive problem for us."
Wotte will attempt to bring some aspects of the Dutch system into the Scottish game but is conscious of having to adapt to his new surroundings.
"In Holland we know everything about football players from eight, nine, 10 years old," he said.
"Even on the national level - under 13, under 14 - everything is monitored. We know about under-13 football very well.
"We have elite training sessions in Holland starting from the age of 12 to bring the best against the best.
"I was told this is not the case in Scotland so this is one of the issues it's my responsibility to put this in place."
But he added: "We need to implement this in the Scottish way. You can't take the blueprint out of Holland and put it in Scotland.
"Holland is also a small country. We are number two on the Fifa ranking list, but with similar infrastructure, but maybe more knowledge about how to develop world-class players.
"Everything I know from my country I will try to bring it to Scotland."