Castle Stuart gets players' approval
By Liam McLeod
BBC Scotland
Last updated on .From the section Scotland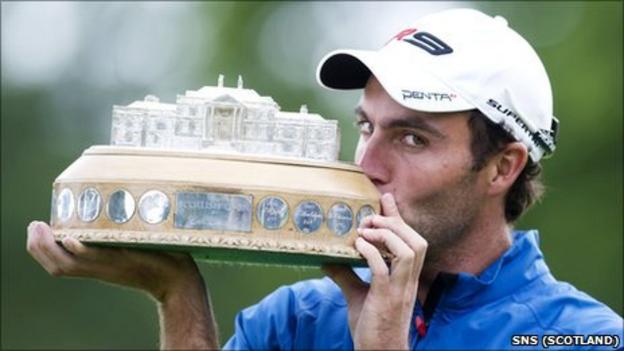 It was strange heading up the scenic, if frustrating, A9 to cover this year's Scottish Open having become accustomed to making my way to Loch Lomond at this time of year.
What was not so strange was the howling wind and rain that has no respect for the season we are in.
Castle Stuart is the new venue for Scotland's premier golfing event on the European Tour, just five miles east of the Highland capital, Inverness.
Loch Lomond is a stunning venue, but the new place and its rolling links on the banks of the Moray Firth is equally so.
Of course, it is not just me getting used to the new surroundings of this recently revamped course as the top-class field here prepare for battle. There is even a new trophy.
And so far the move from the inland course to this one has been met with approval from those who will tackle it.
One of the main reasons for the change was to attract a better field of player - with many preferring a links course the week before The Open gets underway.
One of those players is three-time Grand Slam winner Padraig Harrington, who has not featured at this event since 1999.
"Obviously, the first thing is, I'm here because it's on a links golf course," said the man who conquered the links at Carnoustie and Royal Birkdale to seal his two Open titles.
"I've always said that I like playing the week before a major tournament. But, even though I grew up playing links golf, it's distinctly different getting used to it again and it takes some time.
"The fact we're here now at the Scottish Open on a links course is fantastic.
"We weren't sure what to expect from the golf course, but it's way above expectations, it's fantastic."
Castle Stuart is the seventh venue to hold the Scottish Open, with this year being the 29th staging of the event, and follows the Old Course at St Andrews and Carnoustie as the third links course to be used.
There are five of the world's top 10 here in the shape of current number one Luke Donald, number two Lee Westwood, six Phil Mickelson, eight Matt Kucher and nine Graeme McDowell.
Californian Mickelson is, of course, no stranger to the tournament, having teed it up at Loch Lomond for more than a decade.
"I've loved having the opportunity to come over here and play the week before the Open, get acclimatised to the time and get in a competitive frame of mind," he said.
"I've enjoyed my time at Loch Lomond, but I'm very excited about being here at Castle Stuart. I think playing links-style golf will be a great way to not only get forward next week but showcase this event.
"It has one of the strongest fields it's ever had and is on a golf course venue now that is conducive to next week's golf, as well as something really special.
"This golf course is terrific and Gil Hanse, the designer, is one of my favourites in modern-day architecture."
So two men with seven majors between them give the new place the thumbs up. So far, so good for Castle Stuart.
Inevitably when attention turns to the Scottish Open, regardless of its venue, the spotlight will be on Europe's winning Ryder Cup captain Colin Montgomerie. Perhaps even more so this year.
That is because a two-decade run of Open attendance is under the most serious of threats.
Monty needs a top-five finish this week if he is to qualify, having failed to do so at the official qualfying event at Sunningdale at the beginning of last month.
The former eight-times European Tour order of merit winner begins his campaign in the same group as Luke Donald on Thursday morning.
The 48-year-old has a close affinity with Loch Lomond, having won there twice, and the small matter of his wedding being held there some years later.
He also managed a chat with the assembled media before having his first ever go on the Castle Stuart course.
"I haven't played the course yet, so today is my round, but what I've heard from everybody, it's very exciting and all credit to Barclays for bringing it up north," he said.
"I think the reason that we are here is the strength of the field, the quality of the field wanting to improve before an Open Championship.
"I think they've got it almost right, that the number of players that were not playing Loch Lomond on a so-called clay court before a grass court major. So at least we are playing on two grass courts now, if you understand the analogy.
"It'll be very dfficult (to qualify for the Open), so I've got to perform really to the top of my ability and we'll see what happens. It's a challenge, but I don't want to miss the Open."