McCarthy lets Fletcher decide on Scotland return
Last updated on .From the section Scotland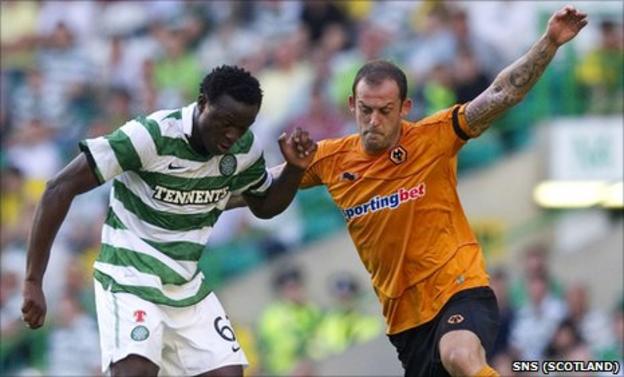 Wolves manager Mick McCarthy says he would be happy for Steven Fletcher to return to the Scotland side but insists it is up to the player to decide.
And the striker has been out of the international scene ever since.
"I can't clarify his position," McCarthy told BBC Scotland. "I'd love him to play (for Scotland)."
Fletcher, who has eight caps, has played only once for the national team since Craig Levein became coach but was a regular scorer towards the end of last season as Wolves avoided relegation from England's Premier League.
"I don't speak to Craig about it and, in terms of speaking to Fletch about it, all I know is that he's a fabulous player for me," added McCarthy.
"He was my marquee signing last summer and I was so delighted to get him.
"In terms of ability, if they've got anybody better playing for Scotland then good luck to them, they've got some good players.
"If there's anything between Craig and Fletch, that's for them to deal with, not me.
"I know Craig, I'm good pals with him. I've always had a great relationship with Craig."