Darren Fletcher wants Walter Smith to manage Man Utd

By Chick Young
BBC Scotland
Last updated on .From the section Scotland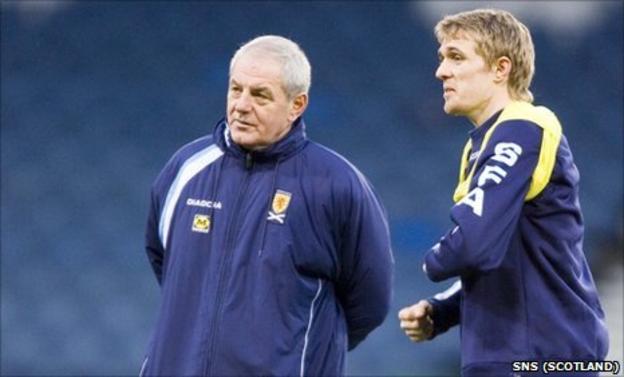 Manchester United's Darren Fletcher says Walter Smith could be a future manager of the club.
The Scotland captain says he is impressed by Scottish coaching invasion of England's top division, and thinks Smith could return to England.
"Walter Smith would be a fantastic manager for any club in England and I mean any club," Fletcher told BBC Scotland.
"I think he deserves to be at a big club because he is that good."
Speaking exclusively to Sportsound on BBC Radio Scotland, Fletcher revealed that he thinks the former Rangers boss could replace Sir Alex Ferguson.
"He still has a lot to give and when Sir Alex eventually retires I would even love to see him at Manchester United. He would be a great replacement," Fletcher said of the 63-year-old who spent a spell as assistant manager at United in 2004.
"I would urge anyone down here looking for a manager to take him. I was delighted to hear that when he left Rangers he wasn't retiring from the game."
"Walter is just a fantastic manager, I have so much respect for him.
"My first experience of him was when he came to Manchester United as assistant to Sir Alex Ferguson and then of course with Scotland where he did a fantastic job.
"He put us in a great position to qualify.
"He is a great manager but I saw the other side of him as an assistant and he was brilliant at that.
"He took some great sessions at training and the Manchester United boys loved him.
"He was a breath of fresh air and that side of him was something I didn't really expect."
And Fletcher is pleased that the reputation of other Scottish managers is growing south of the border.
"Our coaches are really making an impact on the game in England and everyone has huge respect for them.
"The lads in our dressing room think it is the accent.
"People seem to pay attention when a Scots voice barks orders.
"There is something demanding about the Scottish accent," says Fletcher.
"Maybe one day I will be among them. I am doing my coaching badges now and some time in the future, you never know."