Kris Boyd eyes international return for Scotland

By Chick Young
BBC Scotland
Last updated on .From the section Scotland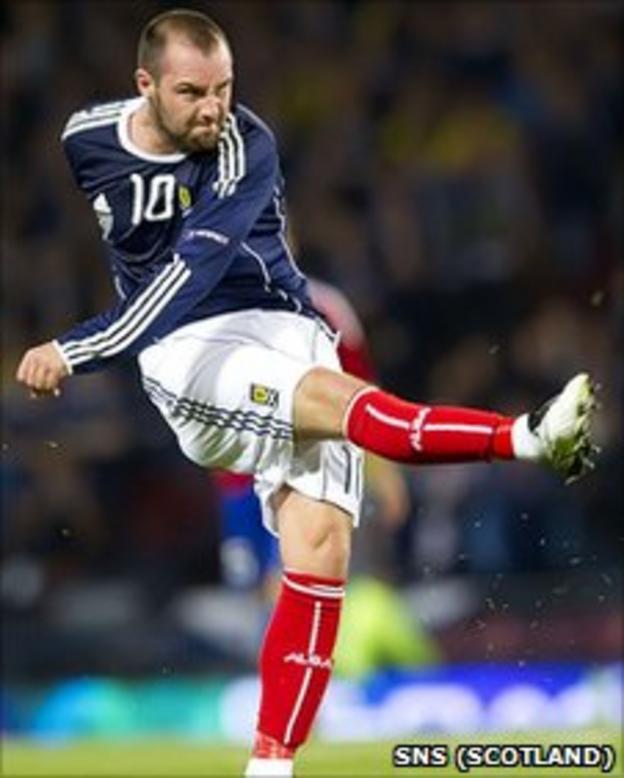 Former Rangers striker Kris Boyd admits that his career was on "the road to nowhere" after he left Ibrox.
"I believe I can score the goals in the Turkish league that I did in Scotland," Boyd told BBC Scotland.
"I know if I get back into a Scotland jersey then I will be doing things right on the pitch."
Boyd signed a three-year deal with Eskisehirspor after a difficult year in England.
"It has not been an easy time, but I do feel I have turned a corner," he added in an exclusive interview with BBC Radio Scotland's Sportsound.
"Eskisehirspor are a smaller club, but a club who are going places. Over the last five years they have moved up from the Second Division and have been improving every year.
"This year they have spent a bit of money bringing in European and Brazilian players. I am looking forward to the challenge."
That challenge though is on ice due to a delayed start to the Turkish season because of investigations into match-fixing, but Boyd has been with the club at a training camp in Belgium.
"I feel good, seldom have I been fitter," he says.
Boyd, 27, admits that he is at a big crossroads in his career.
"Middlesbrough was the road to nowhere for me when Tony Mowbray came in," he explained. "That was just never going to work.
"He just didn't fancy me. But then when I went to Nottingham Forest on loan I got back on the straight and narrow. I owe a lot to Billy Davies. He was terrific for me.
"Inside that short period of time at Forest I got my belief back.
"It was there I got my head back together and when the Turkey opportunity came up again - and it has happened every transfer window for the last three years - I had to seriously think about it.
"I didn't feel at first it was right at the time and I wanted to try my luck in England. I didn't get the right vibes from previous Turkish clubs, but as soon as I went to Eskisehirspor I felt it was right."
Meanwhile, Boyd looks back on his time with Rangers with no regrets.
"There was never a chance of me staying," he said. "They said there was this offer and that offer, but I have yet to see a piece of paper offering me anything.
"I knew the longer the time went on I wasn't wanted and I had to get my head round the fact that I wasn't going to be there.
"It was hard to deal with the last four or five months of my Rangers career.
"It crosses your mind sometimes when things don't go well as happened at Middlesbrough that you could go back and start all over again, but deep down I knew that was not going to happen.
"So it was about getting my head right. Goalscorers are hard to come by and l had to realise that.
"Billy Davies took me off that road to nowhere round about Christmas time and if any club north of the border is looking for a manager I would be stunned if they didn't make him an offer."
On the topic of a Scotland comeback, he added: "I had no problem not getting picked when I wasn't getting a game with my club. But I want to get back in.
"Playing with Scotland is the highlight of my career and getting back into a dark blue jersey is the next big challenge."
The striker has not been put off a Turkish experience by former team-mate Kenny Miller's short lived adventure there.
"I think Kenny's problem was that he couldn't settle, but my wife and kids will stay in Scotland and I will get home and they will come out when we can do it," he explained.
"It will be hard, but you cannot move kids left, right and centre.
"I am really determined about this. I will try and learn the language and I will work by their rules.
"Maybe some day I will play in Scotland again. You just never know what will happen."
You can hear all of Chick Young's exclusive interview with Kris Boyd on BBC Radio Scotland's Sportsound from 1400 BST.