Blackburn boss Steve Kean targets more Scots signings
Last updated on .From the section Scotland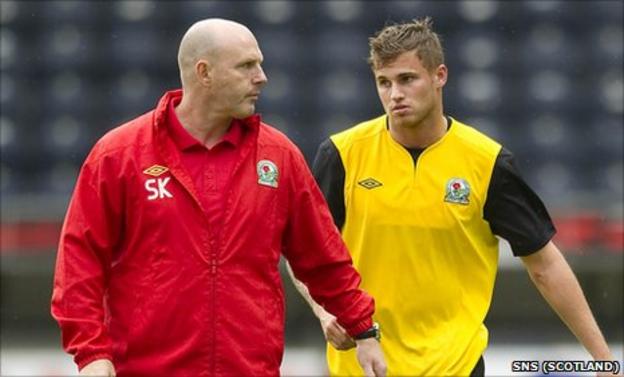 Blackburn Rovers manager Steve Kean may add more Scottish players to his Ewood Park squad before the transfer window closes at the end of August.
"We didn't just have David Goodwillie on our radar," the Scot told BBC Radio Scotland's Sportsound programme.
"We had another two or three but I'd like to keep them close to my chest."
Kean did concede that the club have been made aware of Rangers midfielder Gregg Wylde,
"He's certainly one that's been flagged up by our scouts," he said.
"I think he's got good qualities.
"We think there's a resurgence of Scottish talent because they've got match experience at an early age.
"We've got Scottish scouts and I'm a firm believer that there is good talent in Scotland.
"Within the next couple of years I would say that there will be a lot more Scottish players in England than in previous years.
"We've not managed to assemble the squad we want to have before the transfer window closes.
"But we have another four active bids on the tables of other clubs at the moment."
Seven of the 20 top flight clubs in England are managed by Scots, and Kean believes there is a common factor which makes a Scottish manager an attractive prospect.
"I think if you ask any of us, we always think that a good Scottish trait is our work ethic and our drive for the game," he explain.
"That gets you through the tough times and rubs off on your players.
"You're probably better asking the players why we've done quite well."