Scotland keeper Craig Gordon focusing on injury rehab
Last updated on .From the section Scotland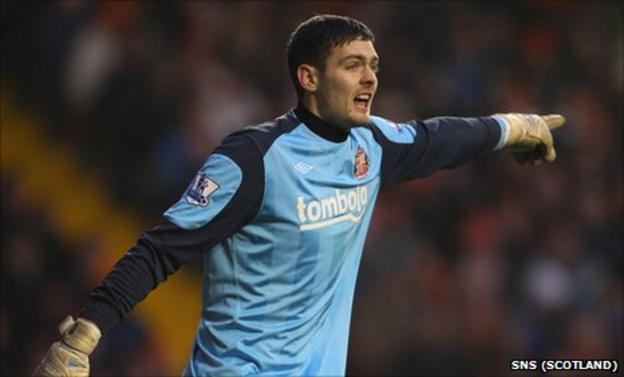 Sunderland and Scotland goalkeeper Craig Gordon says he does not know when he will be fit to return to action.
The 28-year-old is undergoing knee surgery rehab, but is not ruling out October's Scotland internationals.
Gordon, who is in the last year of his Sunderland contract, also revealed that he will not think too far ahead until he is back to 100% fitness.
"I've not spoken to the manager," said Gordon. "I have to get fit - and once I do that, I can look towards my future."
The former Hearts keeper attracted interest from Celtic after the Glasgow club missed out on Poland international Gregorz Sandomierski.
However, Celtic manager Neil Lennon has since agreed another loan deal for the Newcastle's Fraser Forster last week.
Gordon told BBC Scotland he was solely focused on improving his fitness and did not want to think about returning to action in any specific matches.
"I'm doing my rehab now - I have another review in a couple of weeks to see where I am," he said.
"I'm just taking it in tiny little steps at a time. I've got to concentrate on getting these two weeks of the rehab done and we'll find out where I am from then.
"But I don't want to give a definitive date on when I'm going to come back. It's quite an unusual injury to get and I just have to take my time and make sure I get it right.
"I wouldn't like to rule myself in our out at the moment - I just have to see where I go over the next few weeks and take little steps at a time to get my fitness back and I can look to start getting a game after that."
Gordon joined Sunderland from Hearts for £9m in 2007, but a previous knee injury and a broken arm have hampered his time at the Stadium of Light and his position is in doubt after the Black Cats recruited Kieran Westwood from Coventry City in the summer.
"The first thing I've got to do is return to action and get myself fit - and in a position to play games," added Gordon.
"Once I do that, and when I feel as if my body is in the right condition to get back, then I'm still confident in my ability to play at club and international level.
"I just need to get my body in the right shape and the right fitness and I'll be ready to go.
"I've got to get myself back fit. I don't know what will happen with Sunderland."