European nadir can be addressed - SFA boss

By Annie McGuire
BBC Sport Scotland
Last updated on .From the section Scotland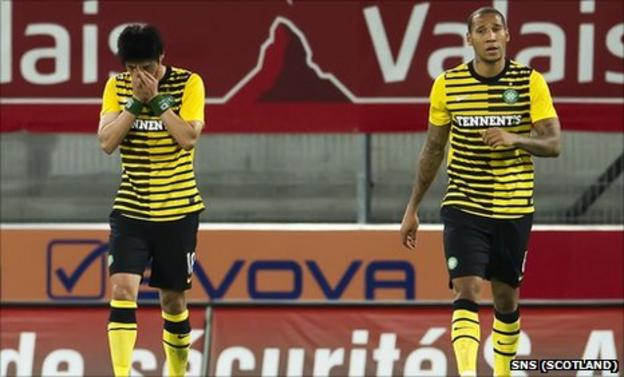 Scotland's clubs can recover their standing in Europe despite a disastrous night in the Europa League, according to the Scottish Football Association chief executive.
Celtic, Rangers and Hearts were knocked out of the competition on Thursday.
Stewart Regan told BBC Scotland: "It's a real low point for the Scottish game.
"We've just lost our way. I wouldn't want to call it a crisis because that implies that you are not able to do something about it. I think we can."
Hearts drew 0-0 with Tottenham but lost 5-0 on aggregate, Celtic suffered a 3-1 defeat away to Swiss Cup winners Sion after a goalless first leg in Glasgow, while Rangers drew 1-1 at Ibrox to lose 3-2 on aggregate to Slovenian champions Maribor.
That means there are no Scottish clubs in Europe beyond August for the first time since the inception of European club competition in 1956.
"You look at some of the countries still competing and they are the minnows of Uefa," said Regan.
"Scotland cannot afford to lose its big teams in Europe, it is too important for the game financially and from a performance point of view. We have to wake up and smell the coffee and recognise that it is time to do something about it.
"At the moment, we've got a big job to do and a long way to go.
"So I would say to the fans that we recognise your concerns, understand your frustrations, but we have to allow ourselves time to put a strategy in place.
"The solution lies in our own hands. I think, if anything, it might galvanise us and act as a catalyst for change and that's what we need it to be.
"I think it is really difficult for fans to have patience.
"I have had the greatest feedback ever on a Twitter debate tonight and there has been some fantastic ideas coming through.
"I can sympathise with fans who have got frustration that this seems to have been dragging on in Scotland for years and we don't seem to be getting any better.
"You can't just deliver overnight success. You need sustained investment."
Dundee United had earlier been knocked out of the Europa League after losing out on away goals to Polish side Slask Warclaw.