Tomas Rosicky expects 'attacking' Scotland at Hampden
Last updated on .From the section Scotland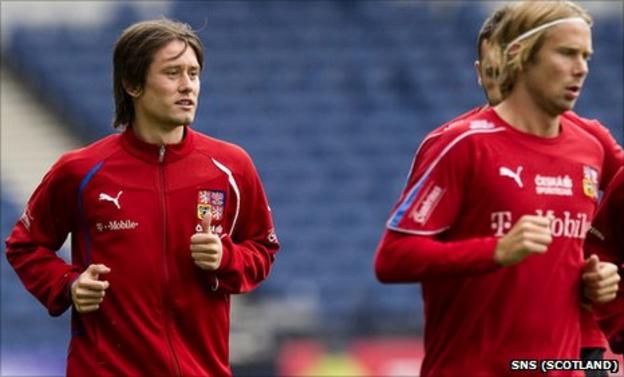 Czech Republic captain Tomas Rosicky expects "a more attacking approach" from Scotland when the two sides meet on Saturday.
The Czechs beat Craig Levein's side 1-0 in their first Euro 2012 qualifying Group I encounter, when the Scots started without a central striker.
"We know it will be an aggressive game," said Rosicky. "It will be a good pace because the stakes are high.
"Like the game last year, if we match the aggression we will be successful."
Scotland, having played a game less, trail second-place Czech Republic by four points ahead of the crucial encounter at Hampden, with runaway leaders Spain clear by six points.
And Levein will field several players familiar to Arsenal's Rosicky, such as Liverpool's Charlie Adam.
"At this point I think the most dangerous and improved player is Charlie Adam," Rosicky said.
"He is good on the ball and has good vision. Obviously he is the one who spreads the ball but other players can be dangerous as well.
"That won't be our main focus, just to stop him. We expect the Scottish team to be aggressive and close us down."
Arsenal have had a poor start to the season domestically but Rosicky insists he does not feel any additional pressure.
"I don't feel I have something to prove personally," he added.
"Of course I'm the leader of the team, I know I have the biggest responsibility and I'm not hiding away from it."
First-choice keeper Petr Cech misses the match injured and head coach Michal Bilek has to decide whether to start with Hamburg's Jaroslav Drobny, Dnipro's Jan Lastuvka or Pribram's Ales Hruska in goal, with the latter two as yet uncapped.
"I still believe the goalkeepers we have got are experienced," said Bilek.
"The pressure is on both sides but after the mishap in Norway (the 3-0 friendly defeat) the supporters are disappointed and I expect some improvement.
"The stakes are very high, both will be going for the maximum.
"I would be quite happy if we got a point from this match but I believe we will both put the maximum effort into getting a win."