Scots athletes get funding boost
Last updated on .From the section Scotland
Scottish athletes have been given a funding boost with additional support from government body Sportscotland.
Forty five athletes have received extra funding of £3000-£10000 through the new Athlete Personal Award Scheme
The awards will be reviewed annually, with targets for the athletes to meet to maintain their level of support.
And Sportscotland's elite performance director Mike Whittingham is hoping the awards can propel Scotland to their best-ever Commonwealth medals haul.
Whittingham is targetting at least 34 podium places at Glasgow 2014, which would outdo the Edinburgh Games of 1986.
Commonwealth shooting gold medallists Jon Hammond and Jen McIntosh and 400m hurdles silver medallist Eilidh Child were among the award winners.
"I'm delighted. For this to become real, it's been a long time coming," said Sportscotland chairperson Louise Martin
"This is a first, it's a learning curve for us all, and it's certainly a learning curve for the athletes."
"I think it gives them the freedom of choice because if they're working or if they're in school, they're hidebound by time there to be able to train the way they want to train."
Martin, a former Commonwealth Games swimmer, reflected that the funding was an oppportunity which simply wasn't available to athletes of her generation.
"We had nothing, no lottery funding, nothing. It all had to come from parental sacrifice and yourself.
She also insisted that there was little danger of athletes becoming complacent with extra funding in place.
"There could be a danger with that, but I think, the way the athletes have been chosen, they have a specific role, they have specific targets.
"They've already shown that they're dedicated and want to train.
Badminton player Susan Egelstaff, a recipient of a £5000 award, thinks the extra support could be the difference between reaching the podium or not in 2014.
"It is such a difference," she said.
"It's nigh on impossible to do it if you're working around training because it means that any time you're not training you're at your job so your body doesn't get the chance to recover."
"Definitely this could be the difference in the next few years between medalling at Glasgow or not."
Young swimmer Craig McNally, who is just about to start university, said the award will make a huge difference to funding training.
"I feel really privileged to get this award just to make sure I don't ahve to worry about the financial aspects of things.
"It means I don't have to worry about finance fior getting petrol for going to training or the costs of training, like training canmps abroad.
"It costs me £80 a month just for pool hire."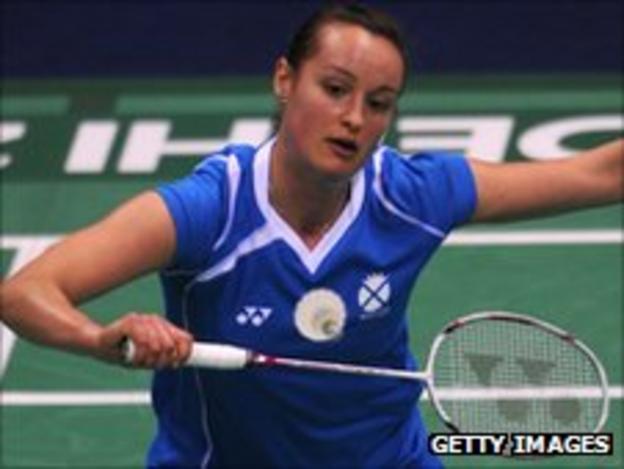 "It means I can just concentrate on my swimming and not worry about things.
"This is me going full-time now. So this is really enabling me to do that without having to think about getting a job."
However, not all the athletes being given the award were using the money to go full time.
Weightlifter Graeme Kane feels so passionate about his job as a firefighter in Ayrshire that he is planning to carry on working, despite being awarded £5000 by the scheme.
"It'll help me out with training, it'll help me with my diet, it'll help me out with competitions, everything really.
"But I love my job. I was offered previously a full-time contract, but I had to turn it down just due to a love of the job.
"If I wasn't in the Fire Service I would have happily taken the contract.
"But as much as I love weightlifting, it doesn't pay the bills forever."